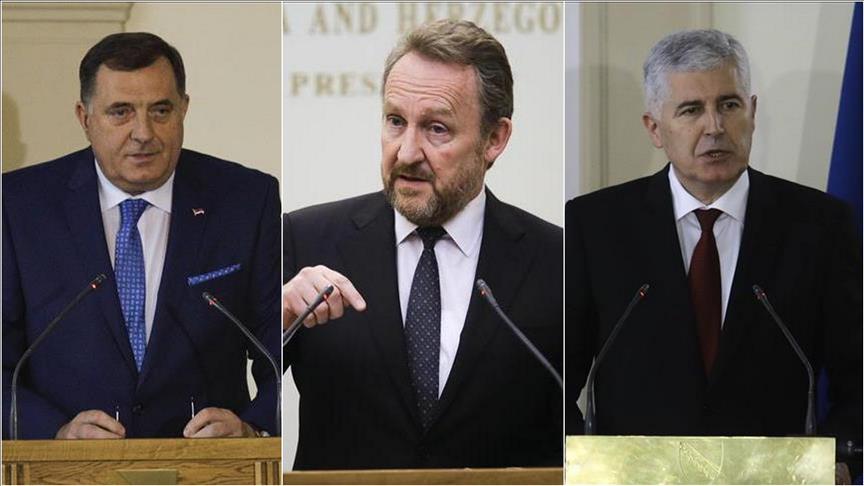 Lideri tri najveće nacionalne stranke u Bosni i Hercegovini, Saveza nezavisnih socijaldemokrata (SNSD), Stranke demokratske akcije (SDA) i Hrvatske demokratska zajednice (HDZ) sastali su se u ponedjeljak u Sarajevu kako bi razgovarali o formiranju državnog Savjeta ministara i drugih institucija, ali nije bilo rezultata.
Zapravo, jedini rezultat je bila odluka da se drugi sastanak održi u naredna dva dana. Milorad Dodik (SNSD), Bakir Izetbegović (SDA) i Dragan Čović (HDZ) su ključni igrači u uspostavljanju vladinih institucija u zemlji. Uprkos činjenici da su Opšti izbori održani u oktobru 2018. godine, BiH još uvijek nije provela izborne rezultate.
Kako su Dodik i Čović izjavili nakon sastanka, najvažniji cilj je da se što prije okonča formiranje vlade, što znači osnivanje Vijeća ministara. Prema njima, važno je iskoristiti i trenutni politički zamah u ovoj sedmici, kada se očekuje da će Dom naroda FBiH i Dom naroda u državnom parlamentu biti uspostavljeni u punom kapacitetu.
"Ja sam optimista i ne vidim razlog da se ovo produži. U narednih nekoliko dana ponovo ćemo sjesti i pokušati postići dogovor. Danas smo se sastali da vidimo dinamiku formiranja Vijeća ministara," rekao je Čović.
On je istakao da bi se na sljedećem sastanku mogla očekivati rasprava o raspodjeli ministarstava, a potom i objava imena budućih ministara.
Milorad Dodik, koji je rekao da ne vidi nikakve prepreke za formiranje vlade na državnom nivou, bio je prilično optimističan.
"Mi iz RS imamo devet poslanika u Zastupničkom domu i pet u Domu naroda. Nema problema da Srbin bude predsjedavajući Vijeća ministara, čak i ako je to Zoran Tegeltija, a naš pristup je konačno da završimo ovo pitanje. Tu je i pitanje masovnog zapošljavanja u državnim institucijama. Od izbora do sada je u državnim institucijama zaposleno više od 400 ljudi. Stare strukture i bivši ministri to čine, što je pogrešno i ilegalno," rekao je Dodik.
Predsjednik SDA Bakir Izetbegović također se obratio medijima i rekao da je održana rasprava o prioritetima i odnosima.
"Razgovarali smo o položaju Bošnjaka i Hrvata u RS, i o položaju Srba u FBiH," rekao je Izetbegović.
Dodik i Čović insistiraju da se što prije odredi kandidat za predsjedavajućeg Vijeća ministara BiH, ali bošnjački i hrvatski članovi Predsjedništva, Šefik Džaferović i Željko Komšić, to uslovljavaju putem BiH prema NATO. Čini se da je cijeli proces zaustavljen i, očigledno, sve strane pokušavaju da dostignu maksimum u ovim pregovorima.
Vrijedi reći da su Dodik i Čović prijatelji i njihovi odnosi sa Izetbegovićem su vrlo hladni. Dodik je jedini član Predsjedništva BiH među njima, ali Izetbegović i Čović su bili na tom položaju do izbora u oktobru.