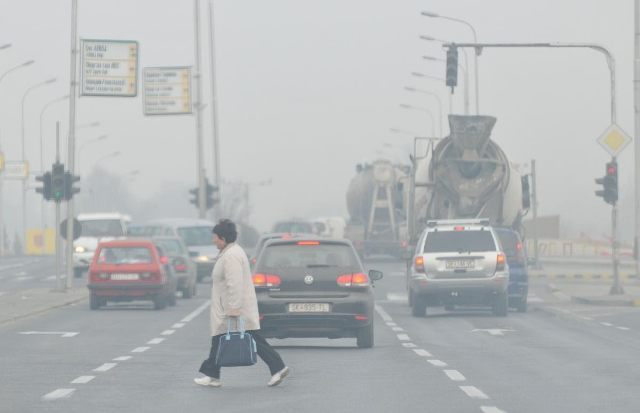 The level of air pollution has grown has recently grown in Skopje and other cities of the country. Following the measurements that have been made, the commune of Karpo in Skopje has the highest level of pollution. The level of PM10 particles on Sunday was 1200 micrograms per cubic meter, more than in the city of Tetovo, which had the highest level. A high level of pollution was also registered in Kumanovo and Manastir.
In the recent days, the majority of the residents of Skopje have abandoned the capital and sought refuge in the suburbs.
"Along with my family I went to my villa in the countryside, where we will remain for a few days until the situation is improved. The level of pollution grows during the night", says Sonja Jovanov from Skopje.
The children's embassy, "Megjasi", based in Skopje has also reacted about this situation. This organization says that children are the most damaged ones from the air pollution and that as a result, the youngest ones have problems with their lungs.
"Last year, one in two children has been treated for respiratory diseases, as a direct result of air pollution", says this organization.
The vice chairman of SDSM (Macedonian Social Democratic Union), Damjan Mancevski, demanded urgent measures to be taken against air pollution.
"We demand for measures to be taken in order to reduce air pollution in Skopje. A record level of air pollution has been registered in Skopje, almost 25 times over the permitted level", Mancevski said.
Mancevski has proposed several measures that the next government must take and among them: gasification of Skopje, to secure financial resources for free public transport, subsidize the isolation of the power network, etc.
The Ministry of Environment has not issued any declaration about the situation, but VMRO-DPMNE of Nikola Gruevski has reacted. "Problem with air pollution is a problem that has lasted for decades and we have taken concrete measures in the framework of a long term process, by finding a solution and not by lying to people with press conferences", says VMRO-DPMNE's reaction. /balkaneu.com/