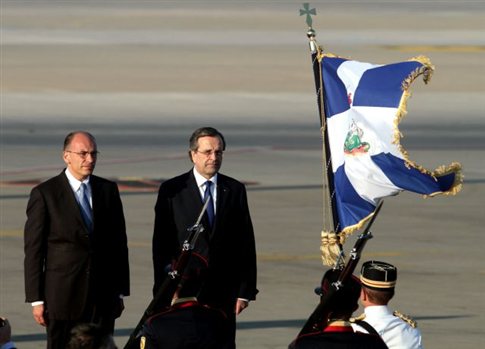 By Lefteris Yallouros – Athens
Italian Prime Minister Enrico Letta gave his Greek counterpart a "vote of confidence" Monday while saying that the EU has made some "serious mistakes" in handling the Greek crisis.
Letta was on an official visit in Athens when he slammed European Union partners during a joint press conference with his Greek counterpart.
"There is no doubt that serious mistakes were made about Greece by Europe in the past few years," said Letta.
"The timing was wrong. The instruments were wrong. The interventions were not made in the right way and at the right time and this worsened the crisis.
"The crisis would have been different. It would have created less of a financial disaster; it would have led to fewer job losses across Europe, if Europe's attitude to Greece had been different at the beginning."
The Italian PM also revealed there was strong Italian interest in Greece's privatization program, although he didn't reveal any more details.
He also pointed out that Greece must meet commitments and comply with agreements made, noting that the sacrifices of the Greek people "were not an end in themselves" but a tool for achieving growth.
The comments came shortly before the European Commission released a report on Monday afternoon, saying Greece "continues to make overall, albeit often slow, progress … with several important actions being delayed." It also warned the outlook for this year and next remains highly uncertain with the budget deficit expected to exceed the official target by 1.75 and 2 percentage points of annual GDP in 2015 and 2016.
Greece will now receive EUR 2.5 billion as part of its rescue loan from the eurozone on Monday and EUR 1.8 billion from the International Monetary Fund on Wednesday.
In turn, the Greek Prime Minister said "the real problems are unemployment and social cohesion", and that it is necessary "that sacrifices made by the people become sacrifices to create results and job opportunities".
"Italy and Greece will hold the EU presidency in 2014 and it is necessary to find a common strategy", Samaras noted, adding southern European countries needed a common strategy to overcome their economic troubles.
Antonis Samaras warned Greece's recession was "worsening problems that we must solve and complicating reforms which we must complete."
The two leaders also discussed energy issues (with focus on the TAP agreement), youth unemployment and illegal immigration.