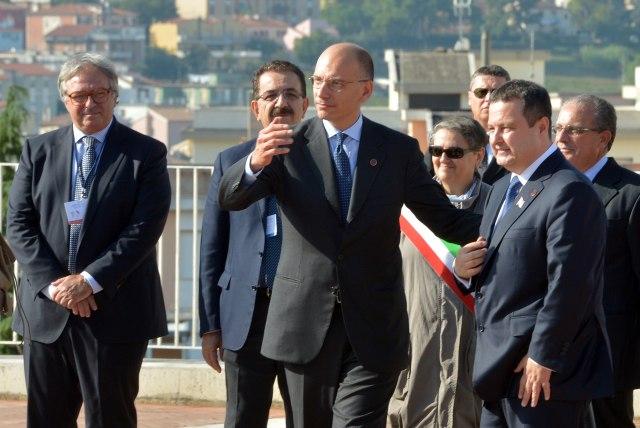 By Miloš Mitrović – Belgrade
Serbia would be the next country to access European Union, Italian Prime Minister Enrico Letta and his Serbian counterpart Ivica Dačić concluded on Tuesday. "Italy is the best friend of Serbia in the West", Dačić said at the press conference held during the third summit of the governments of Italy and Serbia in Ancona.
Italy would continue to support Serbian pro-European efforts, Letta stressed. "We want Serbia to become 29th European Union member state". Furthermore, he said that EU enlargement is among the priorities of the Italian foreign policy. "At this moment, Belgrade and Brussels should take the further steps", Italian PM rendered.
Serbia would start accession negotiations with the EU "at the latest" in January 2014, European foreign ministers concluded at their summit on June 28th.
Letta recalled that Italy would take the half-year EU presidency on July 1st 2014. He has promised that period would be marked by economic growth, in contrast to previous years of harsh austerity measures, Serbian National Television reported.
Balkan represents the "central dimension of the Italian international politics and Serbia could play the key role in this region", Letta emphasized.
Letta underlined the importance of holding the summit, noting that Italian government have planned similar meetings with a number of other countries, such as France, Russia and Spain. He added that Serbia is a very important cooperation partner to Italian businessmen."We wanted the summit to be held here in the Marche region, where business is done primarily by small and medium-sized enterprises".
Dačić thanked Letta for strong Italian support to Serbian EU efforts. He recalled that Italy has become the main foreign trade partner of Serbia. As he said, Serbia became good news in global media. "Thank God, we are not the bad news in CNN reports any more. We have many expectations in 2014. We wait PM Letta to visit Belgrade and we also expect better days for Serbia during the EU presidencies of our friends, Italy and Greece". Greece would take EU presidency on January 1st.
Four agreements were signed during the summit. The memorandum on a donation from the Italian ministry to buy software needed for a database used in the battle against organized crime in Serbia is among the documents.