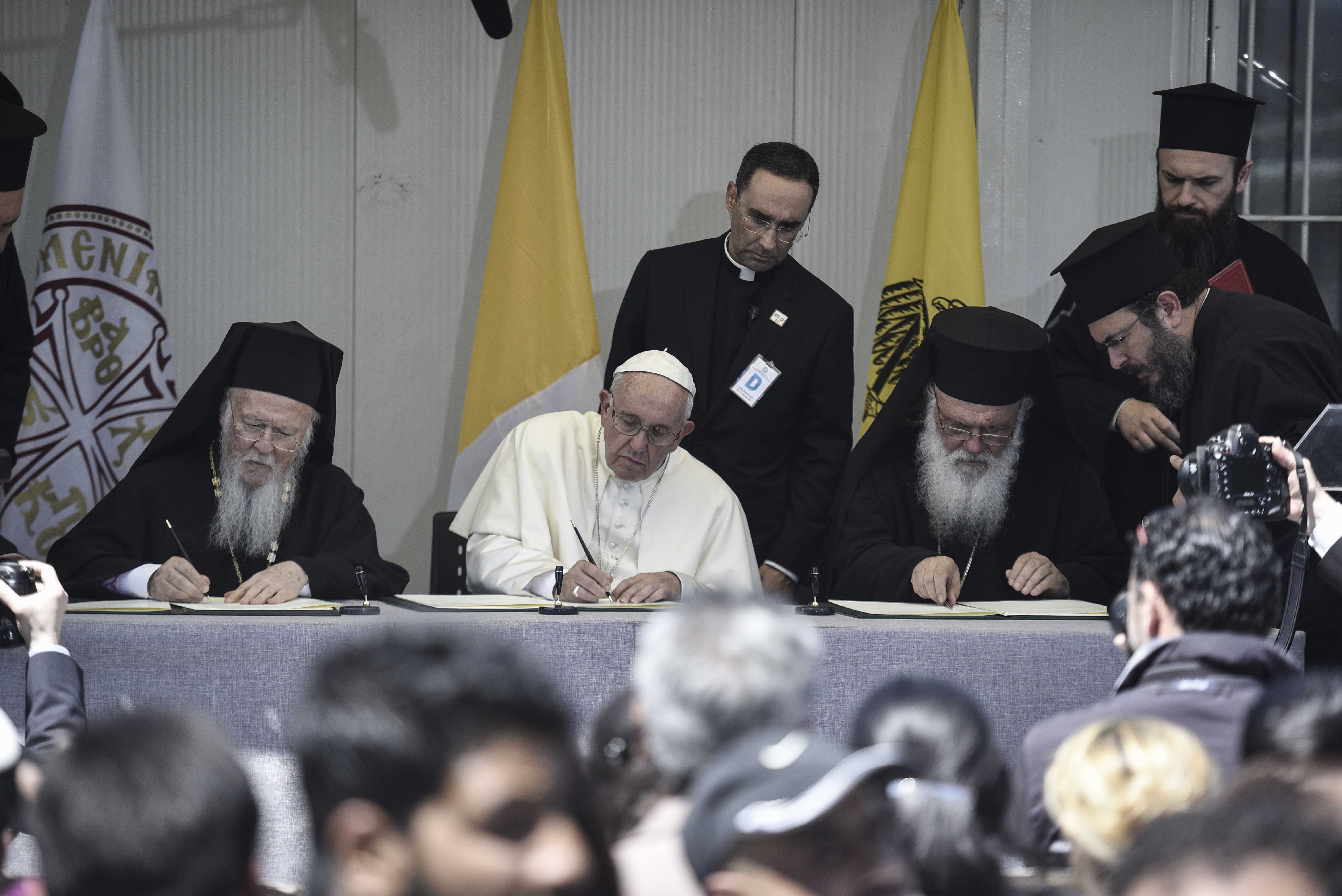 Athens, April 18, 2016/Independent Balkan News Agency
By Spiros Sideris
Lesvos goes down in history, as the new Ellis Island, this time of Europe. Symbol of American history the small island at the entrance of New York, gives its place to Lesbos, the Greek island in the eastern Aegean, which is becoming the destination of hope and a new life for hundreds of thousands of people, uprooted by war, religious fanaticism and extremism, seeking a better tomorrow.
This island chose Christianity Primates, to visit and send a symbolic and powerful message to Europe and the World.
Pope Francis, Patriarch Bartholomew and Archbishop Hieronymus of Athens, for a few hours on the island of Lesbos together, came into contact and communication with refugees and immigrants in the closed reception and identification center of Moria in Lesvos and sent their own message.
The international media have turned their attention and spilled much ink for this visit. The pontiff noted in his statements that Europe needs to build bridges not walls, and stresses that his move to take refugees from the Greek island had no political meaning, only humanitarian. I'm here to turn the world's attention and ask for solutions, Pope Francis stressed.
The primate of the Catholic Church did not forget to thank the Greeks, calling them the "guardians of humanity", who with generosity were able to help as much as they could in a difficult economic situation for them.
The visit did not solve the problems of the refugees-immigrants, but the authority and emblematic figure of the Pope, turned the eyes of the international community where the heart of the refugee problem beats. Time will show the results of this visit, both for the quality of life the trapped refugee-immigrants, and for Europe and the decisions it must make.
The symbolic gesture of the Pope to take with him 12 refugees and provide asylum and stay in the Eternal City, shows to Europeans a different approach to the refugee crisis, based on the Christian religion and the Love that it has taught. Teaching by example.
Photo PM (handout/Andrea Bonetti)