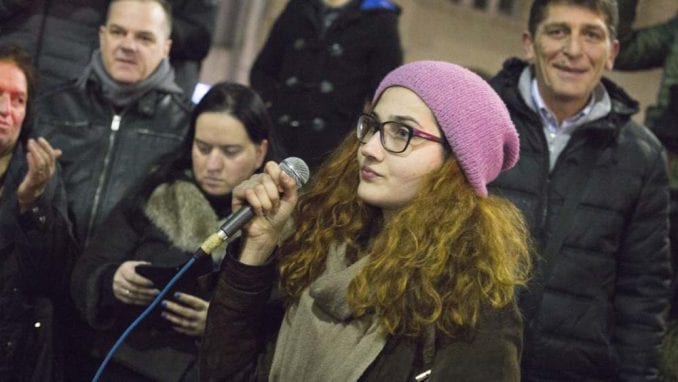 The reduced number of people in the protests in Serbia is not a reason to be concerned, said Jelena Anasonovic (photo), one of the demonstrations' organizers. "Democracy should be defended on daily basis", Anasonovic said on Thursday.
The anti-government protests in Belgrade have been taking place every Saturday since December.
Less people in the anti-government rallies is "natural"; sometimes people need to rest and find new strength and new ideas, Anasonovic told journalists.
She thanked both the protesters who have been persistent in the last five months and the media that have freely covered the demonstrations.
On the occasion of May 9, Victory Day, Anasonovic said that elements of fascism "could be found in the behavior of the current government".
"The media are under direct control not of the government, but rather of one man", she said clearly alluding on President Aleksandar Vucic. "The individual rights are denied and country is becoming more and more like an Orwellian one", she explained, adding that students and other young people in Serbia want to fight for a better country through the culture of dialogue.
Responding to criticisms regarding the fact that marches are not organized regularly any more, Anasonovic said that there is also the need for an exchange of ideas between protest leaders and citizens. From this reason, the so called Free Zone has been established in front of the Presidency building.
Through this communication, people should find new ideas and "motivation for the further struggle".
Janko Veselinovic, one of the founders of the opposition Alliance for Serbia, said that "Free Zone" became an "institution" within days after it has been established. It gathers "many citizens, artists and other people, and by doing so spreads the culture of dialogue".
Veselinovic reiterated that the opposition demands "serious dialogue" on free elections, media freedom and the democratization of society./ibna