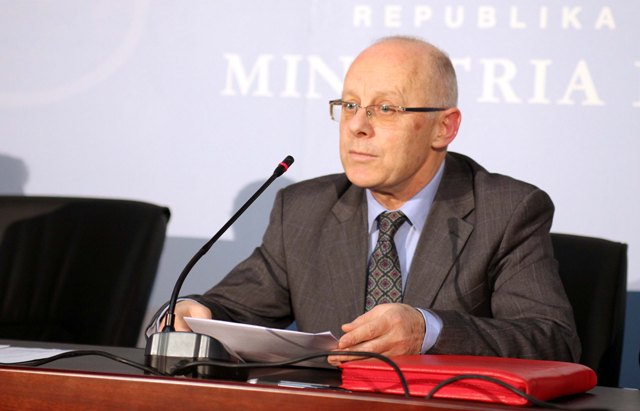 Tirana, April 24, 2015/ Independent Balkan News Agency
Finance Minister, Shkelqim Cani said today that the Ministry of Finance, along with the Bank of Albania, cannot point their finger on the responsible party or even the party that gains from the performance or problems that the crediting of economy has in general.
Invited in the international conference: "Crediting the economy and the diversification of sources of the development of business" organized by the Canadian Institute of Technology and the Center for Innovative and Development Center, the head of the Albanian finance talked about the crediting of the economy and the business, stressing that "this is as important for the country as governing".
"An non credited economy slows down economic growth, especially when 80% of GDP is realized by the private sector", said Cani, adding that "from 2008, we're in a situation of lending contraction, with several positive signals in the last two quarters for a revival, but this growth is still modest".
Cani said that "the government has never neglected the crediting of economy since the first day when it came into power, although it cannot lend and it has no impact in the lending industry".
Speaking on the role and important duty of the government for the creation of a favorable environment for the development of crediting, Mr. Shkelqim Cani stopped on the three main directions that the Albanian government is focused on in relation to the growth of the crediting of economy.
Mr. Cani said that the macro economic aspect, the legal aspect and the fiscal one are the domains where the efforts of all actors have been focused to change the current situation and find solutions that take the economic development of the country forward.
"The full and deep reforms in the economy, which relate to the sectors of energy, those of the pension scheme, territory, education or the fiscal domain and the legalization of real estates, are some of the strategic engagements of the government in order to have an impact on the strengthening of macro-economic sustainability", said Mr. Cani, ranking some of the results of these reforms.
Minister of Finance said that the drop of economic growth has stopped and that sustainable growth is becoming stable, outstanding debts to businesses are being paid, taking the paid figure to around half a billion USD.
The Minister also stopped on the effect that the payment of non performing loans could have had for the economy and added that the Ministry of Finance along with the Bank of Albania, but also international institutions such as the World Bank, are looking into the possibility of studying this phenomenon./ibna/