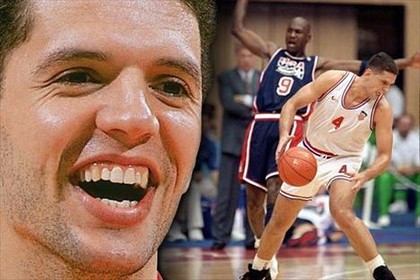 By Natasa Radic – Zagreb
Twentieth anniversary of the death of Drazen Petrovic, one of the best basketball players of the world of all times, was marked June 7th.
Drazen Petrovic was included among the 50 best players in the Euroleague. He played for basketball club Sibenka, Cibona, Real Madrid, Portland Trail Blazers and New Jersey Nets.
A very shy and polite young player started his basketball career at age 15 when he was coached in the basketball club Sibenka and put into the game. Shortly after the first matches that he played, young Drazen Petrovic quickly became one of the most successful players and adored by the supporters of basketball.
Exceptionally talented young man from Sibenik signed for Cibona Zagreb and he twice led the club to the European throne, and in two seasons he was selected as the best player. In Real Madrid he quickly gained the title of the most popular player, and in this period he was also captain of the Yugoslav national basketball team, with which he achieved victory in the World Cup in Argentina in 1990. and a gold medal at the European Championships in Zagreb in 1989.
Drazen Petrovic became the player of the Portland Trail Blazers in 1990, and two years later joined the New Jersey Nets. In 1992. he was named the best European who then played in the NBA. Drazen was named the best basketball wing player in the NBA season.
All those who have loved basketball and sports in general, as well as all those who have ever heard of the talented young Sibenik native at the top of world basketball, were shocked to hear the news on June 7th 1993 when he died in a fatal car accident in Germany.
New Jersey Nets' former coach Chuck Daly said that what Drazen Petrovic meant to the team is something that the words can not describe.
Drazen was added to the Basketball Hall of Fame in 2002. In the final of the European Cup victory when Real played against Snaidro Caserta he scored 62 points, and at the european championship in Zagreb when the Yugoslav team won the gold medal he was named the best player of the tournament. Drazen Petrovic died when he was 29.
-We will always remember Drazen who celebrated his hometown of Sibenik, and he led the former Yugoslavia to the top of world basketball. The tragic fate of this young basketball genius –  "Mozart of the basketball"  is something that we are all deeply touched by – says Sibenik resident Ante Bilic, who laid flowers at the memorial of  Drazen Petrovic on Baldekin on the day of his death.