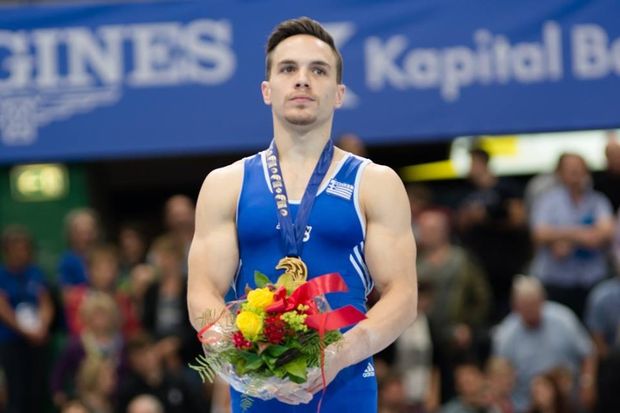 Athens, May 30, 2016/Independent Balkan News Agency
By Spiros Sideris
The gold medal at the rings in the European Championship of gymnastics hosted in Berne, won for the second consecutive year, Lefteris Petrounias.
The Greek world champion (his program had a difficulty of 6.800) received 15.866 points in the final and topped the winners' podium, leaving behind him in second place the Russian Denis Ablyazin (15.633) and Vahagn Davtyan (15.633) from Armenia.
Last year Petrounias became European champion with an "air" of 0,300 points. This year he achieved a similarly wide gap (0,233 points), despite bouncing in his landing. Lefteris Petrounias made another show of strength in the "Old Continent" and is preparing for his next competition, which will be the most important of all: The Olympic Games in August in Rio de Janeiro.
There, the holder of the World and European title will attempt the "triple crown", conquering the Olympic gold medal, an achievement that only Demosthenes Tabakos has achieved in the history of Greek gymnastics, when between 2003 and 2004 he won all available titles, also the rings.
After his new commanding victory, Petrounias said obviously satisfied: "I'm glad I did a 'repeat', which no other competitor in the European championship in the rings had achieved for 20 years, since Juri Chechi in 1996. The score I got was what I deserved, because I made a very good appearance, but also took a step in my exit. I will go to Rio with the same program and I think I will make the same performance, but will also 'stick' in the exit and we will get what we want.
Right now, I do not believe that there is my equal in Europe when my own performance is as expected. We worked very much all the details of my programme. Compared to the other European athletes, the quality of my execution on the rings is inaccessible. The point is to touch down well and if I succeed in that I can beat everyone".
The final classification of the final links:
Lefteris Petrounias 15.866
Denis Ablyazin 15.633
Vahagn Davtyan 15.633
Lambert Van Gelder 15.566
Courtney Tulloch 15.466