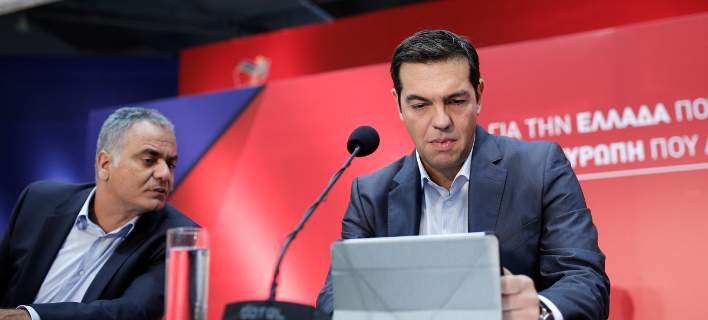 The Greek Energy Ministry has been having a rough time as of late. The question is why?
Minister of Environment and Energy Panos Skourletis seems to be making his own "little brinkmanship revolution" by sending an ultimatum to the Greek Prime Minister, either to remain in the Environment and Energy Ministry as is or become a simple MP.
Panos Skourletis, was Minister of Labour and Social Welfare in the first SYRIZA government, Minister of Productive Reconstruction, Environment and Energy in the reshuffle of July 2015 and Minister of Environment and Energy after the September 2015 elections.
He is a close collaborator of the former President of SYRIZA, Alekos Alavanos and the current Prime Minister Alexis Tsipras, and was party spokesman from 2009 to 2015.
A prominent member of the SYRIZA top team, Panos Skourletis took key ministries, but had poor results in the projects he undertook for those ministries. A comment made by a close collaborator to Alexis Tsipras to IBNA, that if only we had another Maniatis (the former PASOK Minister of Energy) at the Department of Energy, says it all.
In the recent tripartite summit held in Cairo between Greece, Cyprus and Egypt, members of the Cypriot and Egyptian missions expressed their disgruntlement over the lack of action – a responsibility of the Greek Ministry of Energy and Environment – deemed necessary to proceed further in the  trilateral cooperation that began in November 2014.
Furthermore it's only been a few months, since the SOCAR agreement for the acquisition of DESFA nearly fell through because of Skourletis while according to IBNA sources in Bulgaria there was no effective cooperation on energy issues during the Sofia summit on August 1. The messages coming from both Israel and Iran, are of a similar nature, sources say.
Messages from abroad concerning the Energy Ministry are not positive, and the Prime Minister has received these messages loud and clear.
At a time when the energy sector is high on the agenda of the USA, Russia but also Europe, Greece is trapped in the petty left wing obsessions of an important ministry.
As was evident by Panos Skourletis' speech during the SYRIZA Party Conference as well as  statements made during the Central Committee meeting on Sunday, he has received the message for his departure by the Greek Prime Minister.
What Tsipras is trying to do in fact is hitting a nerve with those form a small part of SYRIZA that haven't yet realised fully that it is the Greek people that are governing and not in fact a small 4% movement.
As we have said before on IBNA Alexis Tsipras has matured and is proceeding pragmatically to extricate Greece from its lenders. He is determined to come into conflict with the deep-rooted obsessions dominating SYRIZA, while preserving its ideological principles. The year 2015 has proven that Tsipras is dominant in the left – centre left.
It would not come as a surprise if another division was to take place in SYRIZA, without consequences in the governability of Greece, by today's standards as established on an international level.
Skourletis' reactions and the "protection" which the movement of the "53+" offers him as published in an open letter on Monday, is the reaction of those who do not see him being part of the next day in SYRIZA. One would expect that the leftists would be free from authoritarian syndromes. But reality shows something else completely, as obsessions and petty pursuits are predominant in the logic of many in the left./IBNA