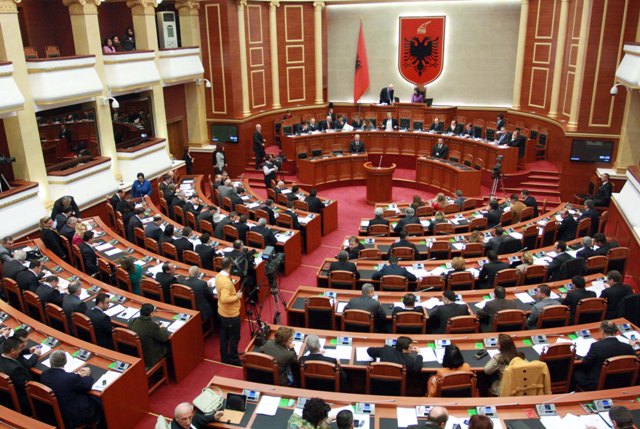 Tirana, June 27, 2013
The new list of law makers which will enter the new Parliament for the next four years has come out, whereby the left will have the majority of seats.
Alliance for a European Albania led by Edi Rama has 84 seats, while the Alliance for Employment, Wellbeing and Integration has 56 seats.
Below you'll find the full list of 140 MPs who will sit in parliament for the next 4 years.
TIRANË
SP
1-Pandeli Majko
2-Saimir Tahiri
3-Vasilika Hysi
4-Ditmir Bushati
5-Fatmir Xhafaj
6-Lindita Nikolla
7-Besnik Baraj
8-Xhemal Qefalia
9-Sadri Abazi
10-Parid Cara
11-Sparatak Braho
12-Artan Gaçi
13-Pjerin Ndreu
14-Rakip Suli
15-Milena Harito
16-Dashamir Peza
DP
1-Sali Berisha
2-Myqerem Tafah
3-Majlinda Bregu
4-Halim Kosova-
5-Florion Mima
6-Gerti Bogdani
7-Dashamir Shehu
8-Jorida Tabaku
9-Edi Paloka
10-Keltis Kruja
11-Kastriot Islami
SMI
1-Ilir Meta
2-Klajda Gjosha
3-Luan Rama
RP
1-Ylli Shehu
PDIU
1-Tahir Muhedini
FIER
SP
1-Gramoz Ruçi
2-Erjon Braçe
3-Eglantina Gjermeni
4- Ilirjan Celibashi
5-Armando Subashi
6-Arben Çuko
7-Pirro Lutaj
8-Majlinda Bufi
9-Ervin Koçi
DP
1-Sokol Olldashi
2-Mesila Doda
3-Kozma Dashi
4-Shpëtim Idrizi
SMI
1-Petrit Vasili
2-Robert Bitri
PJIU
1-Omer Mamo
VLORA
SP
1-Edi Rama
2-Valentina Leskaj
3-Koço Kokëdhima
4-Luiza Xhuvani
5-Fatmir Toçi
6-Andrea Marto
DP
1-Astrit Patozi
2-Arben Ristani
3-Liljana Elmazi
SMI
1-Shkëlqim Selami
PJIU
1-Dashamir Tahiri
UHRP
1-Vangjel Dule
DURRËS
SP
1-Blendi Klosi
2-Klodiana Spahiu
3-Ilir Beqaj
4-Namik Dokle
5-Gentjan Bejko
6-Artur Bushi
DP
1-Eduart Halimi
2-Igli Cara
3-Albana Vokshi
4-Gent Strazimiri
5-Oerd Bylykbashi
SMI
1-Lefter Koka
RP
1-Agron Duka
BERAT
SP
1-Fidel Ylli
2-Ermonela Felaj
3-Eduard Shalsi
4-Eduart Bejko
DP
1-Genc Pollo
2-Astrit Veliaj
SMI
1-Nasip Naço
2-Gledion Rehovica
GJIROKASTËR
SP
1-Arben Ahmetaj
2-Erion Veliaj
3-Anastas Angjeli
PD
1-Genc Ruli
SMI
1-Vangjel Tavo
SHKODËR
SP
1- Mimoza Hafizi
2-Tom Doshi
3-Paulin Sterkaj
4-Namik Kopliku
DP
1-Jozefina Topalli
2-Helidon Bushati
3-Voltana Ademi
4-Nard Ndoka
5-Gjovalin Bzheta
SMI
1-Agron Çela
RP
1-Gaspër Kokaj
PDKSH
1-Mark Frroku
KORÇA
SP
1-Bashkim Fino
2-Arta Dade
3-Olta Xhaçka
4-Ilirian Pendavinji
5-ilir Xhakolli
6-Ylli Ziçishti
DP
1-Ridvan Bode
2-Eleina Qirici
3-Edmond Spaho
4-Fatmir Mediu
5-Gjergji Papa
SMI
1-Piro Kapurani
ELBASAN
SP
1-Ben Blushi
2-Damian Gjiknuri
3-Evis Kushi
4-Alfred Peza
5-Taulant Balla
6-Musa Ulqini
DP
1-Arben Imami
2-Eduart Selami
3-Ardian Turku
4-Luçiano Boçi
SMI
1-Edmond Haxhinasto
2-Bujar Kllogjeri
PJIU
1-Aqif Rakipi
DIBRA
SP
1-Shkëlqim Cani
2-Ulsi Manja
DP
1-Sherefedin Shehu
2-Bedri Hoxha
3-Roland Keta
SMI
1-Përparim Spahiu
KUKËS
PS
1-Vexhi Muçmata
DP
1-Flamur Noka
2-Besnik Dusha
3-Alban Zeneli
LEZHA
SP
1-Mimi Kodheli
2-Armando Prenga
3-Arben Ndoka
DP
1-Aldo Bumçi
2-Gjovalin Kadeli
3-Albina Deda
SMI
1-Monika Kryemadhi