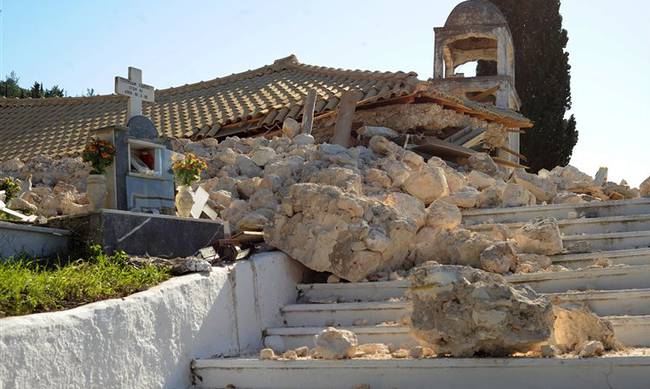 Athens, November 19, 2015/Independent Balkan News Agency
By Spiros Sideris
Lefkada has been declared in a state of emergency civil protection, under the coordination of the Region of Ionian Islands, by decision of the General Secretary for civil protection Yannis Kapakis. This is due to extensive damage to the national, provincial and municipal roads and in public and private buildings on the island, after Tuesday's very strong tremor of 6.1 Richter. The island of the Ionian will remain in a state of emergency for at least six months (until May 17, 2016) and then the situation will be reexamined.
On Wednesday there was strong aftershock sequence. At 14.15 there was a new aftershock of 4.9 on the Richter scale, which shook re residents. It came from a distance of 289 km west-northwest of Athens and its epicenter was a coastal area 8 km north-northwest of the island.
According to the mayor Konstantinos Drakontaeidis, the island has sustained extensive damage to roads and buildings, especially old ones. The extend of the impact on networks and basic infrastructure remains to be assessed by experts. For purely precautionary reasons, both Wednesday and Thursday, schools of all levels (crèches, nurseries, kindergartens, primary / secondary schools / high schools) will be closed, in order for school buildings to be checked for their suitability.
For better address the problems, the Region of Ionian Islands and the Municipality of Lefkada placed help lines at the disposal of citizens. From Wednesady the Region of Ionian Islands and the Municipality of Lefkada began autopsies and recording of buildings, public and private, that were hit by the Enceladus. Echelons of the Rehabilitation Earthquake Sector of Achaia and Lefkada, of the TEE Epirus and Lefkada will also help in this diraction.
Two school buildings of Agrinio appear to have sustained some kind of damage after the powerful earthquake that struck the island of Lefkada. In particular, cracks have occurred in the 3rd primary school of Agrinio and the elementary school of Gouriotissas community and, as stated to AMNA the Deputy Mayor of Agrinio Nikos Grizis, the Perfect has been briefed on order to set up a special echelon of engineers to check both buildings.