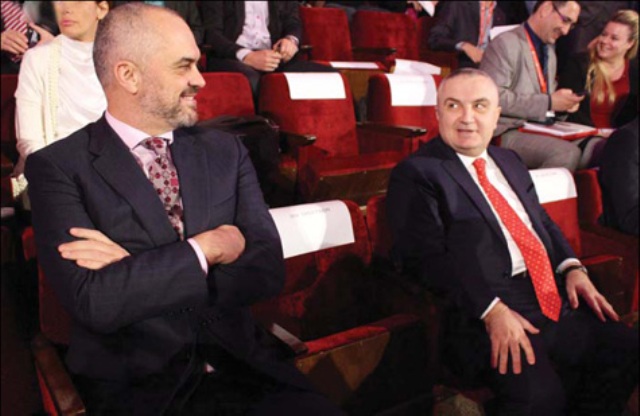 Tirana, June 21, 2013
In the first joint press conference after signing the agreement for the coalition between SP and SMI, Edi Rama and Ilir Meta invited the left wing electorate to join votes for a political rotation.
During his speech, the leader of SP, Edi Rama declared that these are the 48 decisive hours that separate us from the final result.
As far as the Alliance for a European Albania coalition is concerned, Rama said that this coalition is the biggest one ever participated in the elections and where the strategic alliance between SP and SMI is the guarantee for this big victory.
"Nothing has finished although the campaign is coming to an end. We will celebrate after the victory and we will achieve victory after the final result. We would like to address all of those who have supported us up until now in every corner of Albania, that these are the most important 48 hours for the destiny of our country, for economy, society and the European future. We and every voter have an obligation to double our vote. This is the obligation that guarantees victory and protects the vote by doubling advantage. The safest way to protect every vote is to double it with the vote of another", said Rama.
Rama reminded to all the members of the team of the SP and Alliance for European Albania about their constitutional duty to guarantee the intangibility of every vote of the allies, saying that none of the votes of the small parties must go to waste or be alienated.
According to him, for the left it's very important to reach an honest victory.
On his side, the leader of the Socialist Movement for Integration, Ilir Meta said that 48 hours divide us from a new chapter for the country, which will start an unstoppable path of development and change.
He invited all voters to participate on Sunday in the elections, considering this as the best opportunity for everyone to offer their contribution for the change that the country needs.
The head of SMI said that everyone should offer their contribution in order for Albania to achieve the best result, thus confirming the determination to closely cooperate with the SP and all other parties of the coalition.
"The current Prime Minister must at last accept free and honest elections and not to become an obstacle for them. He must not allow police and state structures to affect the election standards, because these standards are more important than anything else. Therefore, we must all understand that after June 23, Albania will be more united and will move faster in the path of integration and economic recovery. I'm fully convinced that the Alliance for a European Albania will win 80 seats in parliament", said Meta amongst others.
Moreover, Meta considered the history of cooperation with Prime Minister Sali Berisha as a closed one, and added that SMI has entered a pre electoral alliance and it will remain in this alliance even after the elections. /ibna/