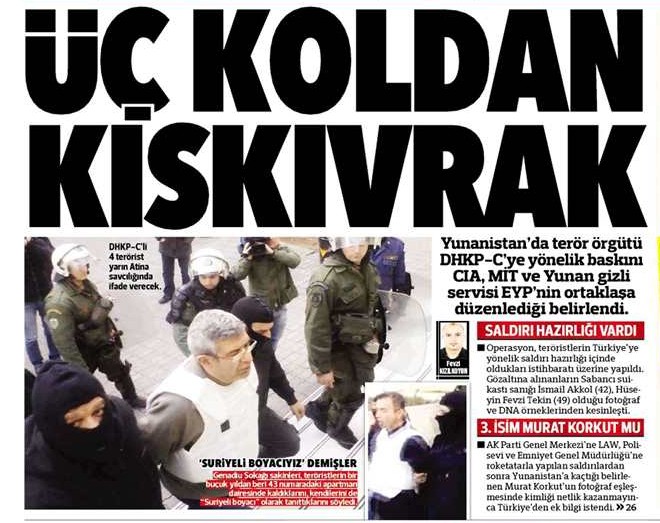 By Manolis Kostidis – Ankara
On first page news, the turkish newspaper Hürriyet reports that among the ones arrested in Gizi terrorist cell, in Athens, is the leader of the terrorist organization DHKP-C. The greek police raid in the terrorist cell had taken place last Monday.
More particularly, the 49-year-old Huseyın Fevzi Tekin, appears to have taken charge of the organization since the death of DHKP-C's founder, Dursun Karatas.
Hürriyet is titled "the 4 nefews have been arrested", since Karatas was clled "uncle" by everyone and the people who were arrested were considered as the leadership group of the terrorist organization.
The turkish newspaper reports that the 41-year-old, Ismail Akkol, who was arrested in the terrorist cell is one of the assassins of the turkish businessman, Ozdemir Sabanci, in 1996. The blame for the terrorist attack had been assumed by the organisation, which had also murdered the director of Toyota in Turkey.
In the turkish press there are publications, which state that a delegation from Turkey's anti-terrorist agency will travel to Athens in order to cooperate with the greek authorities for the interrogation of the arrestees.