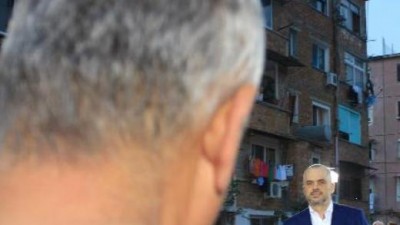 Tirana, May 28, 2013
The leader of the Socialist Party, Edi Rama was present today in the Forum of Economic Perspectives 2013-2017. During this forum, Rama explained the economic part of the SP program.
Asked about unemployment and the strategy that the SP is going to follow to open new jobs, Rama said that, "we are determined to make the sea part of the economy. We're the only country that has turned its back to the sea. The sea industry has the potential to create 15 thousand jobs".
"We believe that 11 thousand jobs can be created by policies in support of tourism. We're also against the way in which social welfare is offered, which in fact is only a handout. We will share the fund of 50 million USD between those who are physically unable to work and the rest must join a fund which will aim their employment", continued Rama.
In relation to the question as to which sectors of the economy will be a priority for long term and short term growth, Rama said; "The model that has been followed up until today has failed and no longer produces new energies and financial stability. We believe that there exists an unexploited rural potential and a well perceived plan for rural development, which would enable us to build one of the three pillars of economy".
According to Rama, the second step is to have a productive economy and to increase the labor forces, whereas the third step is to increase Albania's potential in the service sector, mainly tourism. All three of these, seen not as part of a model which is being developed by taking advantage of the new geo political conjecture on a national and a regional level. "I believe that the state of Kosovo is an important partner in our path of remodeling the economy. The agreement reached between Kosovo and Serbia is a reason to see light at the end of the tunnel", said Rama.
Asked by the moderator of the Forum on the world crisis and its impact in our economy, Rama said that every crisis should be seen as a possibility for a way out. "The crisis in the neighboring countries has had an impact on Albania, be it as a result of the return of emigrants in the country due to the fact that they have not been able to find work or in the form of the reduction of funds that they send from the countries where they live. This is a transformation of the world in which we want to be integrated. It's a great challenge to reorganize the environment in order to help enterprises to recover. Every crisis is an opportunity, a chance and new way out and if we see it as such, I believe that we will succeed. This model doesn't produce new energies or economic and financial stability", said the leader of the Socialist Party, Edi Rama in the Forum of Economic Perspectives 2013-2017. /ibna/