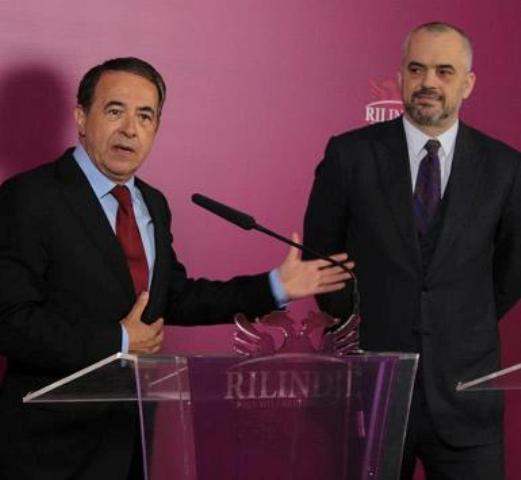 Tirana, June 25, 2013
The leader of the Socialist Party, Edi Rama delivered a press conference today along with the general secretary of the Socialist International, Luis Ayala, where he said, "the Albanian people have taken a solemn decision in order to end a chapter and start a new one like in 1992".
Rama demanded to his supporters to show patience and wait. "The opponent must accept the loss and join in the great victory of Albania. The result is beyond every expectation. There's plenty of time left for the speech of victory. This is a time to collaborate together in order for the counting process to be finalized as soon as possible." The leader of the SP demanded to the team of counters of the other side to continue to do its job in order for Albania to get to work. "Today, every Albanian who has voted on June 23 in favor of whichever political force, must feel proud of making Albania proud in the eyes of the world. Albania has won from these elections", said Rama.
Meanwhile the general secretary of the Socialist International, Ayala said that he congratulated the members of the European social democrat family, Edi Rama of the SP and Ilir Meta of SMI. "I value the way in which these elections have been held. I want to send my condolences to all of those who suffered from the tragic event on the Election Day. The victory of the left is excellent news for Albania, Europe, for the entire social democrat family in the world.
Edi and Ilir will create a joint vision for Albania and a normal democracy. The unification of the left is a new vision for the country. It is a moment that relates to the country and everyone should unite. In the next hours we expected those who have been defeated to recognize the outcome of the elections", said Ayala. /ibna/