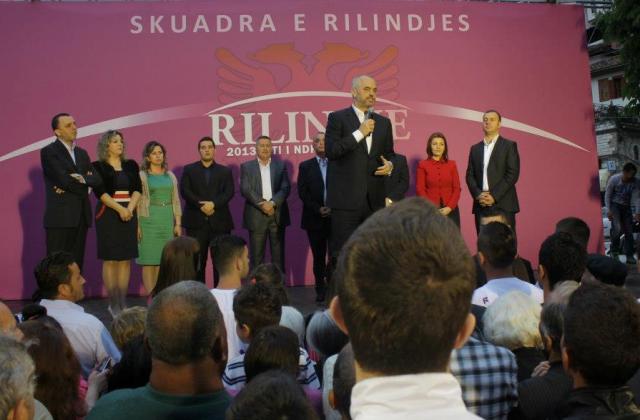 Berat, May 13, 2013
The leader of the Socialist Party, Edi Rama was in Berat today where he presented the candidates for parliament in this constituency.
During his speech, Rama expressed his gratitude for the MP of this constituency, Erion Braçe, who will run in Fier in the next elections.
He also thanked the other MP of this constituency, Marko Bello, who was not made part of the list of candidates for parliament.
Rama said that he was confident that the SP will win 6 seats in this constituency, as the best governing alternative.
"On June 23 we will triumph. What comes into the mind of every resident of this town when entering it? Who brought the road that leads into this precious historical town to this miserable level? How can one vote a party which is full of incompetent people? I say to all the people of Berat that the vote on June 23 doesn't decide who will govern in the four years to come, but the fate of an entire generation", said Rama during his speech.
Rama also called upon the supporters of the Democratic Party not to vote it, in order for this party to change. Amongst others, Rama considered the June 23 elections as important as those of 1992.  In the constituency of Berat, the Socialist Party will run with the following candidates: Fidel Ylli, Ermonela Felaj, Eduard Shalsi, Eduard Bejko, Artan Lame, Stavri Ceca, Erjon Kerri, Anila Agalliu and Alma Kule. /ibna/