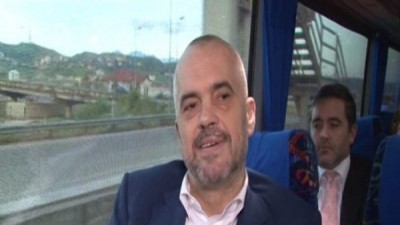 Vlore, May 18, 2013
On his way to the city of Vlore, where he will be presented as a candidate MP, the leader of the Socialist Party, Edi Rama was asked by journalists about the Central Election Commission, for which he answered "CEC is no problem to us".
According to him, it would be best if this institution functioned in conformity with the Electoral Code and not like a party organization. "If Berisha wants it, let him keep it. As it is, it's a great problem for the process. Should it manipulate the result, Tirana regime must face the people. If they want to reformat it, we're ready to accept it", said Rama.
As far as a possible TV debate with Prime Minister Berisha is concerned, Rama said that, "Albanians deserve to follow a debate between the Prime Minister who has been destroying Albania for 8 years, and me, with the Renaissance program. The Prime Minister has no other choice but accept this invitation", said Rama.
Journalists have also asked Rama on Vlore, the city where he runs for MP. "The municipality can do nothing without the government. In circumstances when the government blocks it, the municipality remains like a castle under siege. This has been the case of Vlore. Vlore has not benefited the grants that it deserves given its dimensions. Today Vlore is suffering the abandonment of the government. A little before the celebrations of the 100th anniversary of the independence, the government used the fund of the municipality for the boulevard and didn't allow it to be completed on the 100th anniversary. This is why Vlore and the towns and cities of Albania suffer the current miserable state of things", underlined the leader of the Socialist Party. /ibna/