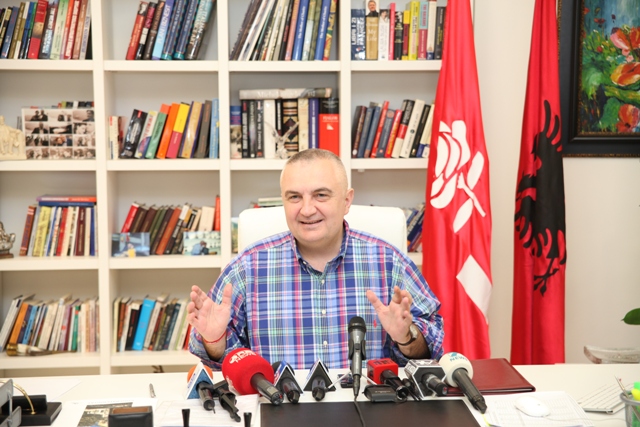 Tirana, May 20, 2013
The leader of the Socialist Movement for Integration, Ilir Meta said today in a press conference that his main objective is for the left wing to achieve a great victory in the June 23 elections.
Meta considered the declaration of the candidate MP for this party, Nasip Naço, who urged people to vote the SMI in order for Ilir Meta to become Prime Minister of the country after June 23 elections, as a personal wish of his. "The coalition is functioning very well and this spirit of cooperation will enable the victory of June 23. The rest consists on declarations and desires of particular individuals. The same applies to Mr. Berisha who continues to dream with his eyes open. My only objective is the victory of the left wing and another objective, the voting of the three bills, for which Berisha is not helping me", said Meta.
Ilir Meta said that the main objective of the SMI is the victory of the "Alliance for a European Albania" coalition on June 23 and to achieve a historical result for the SMI. "We've agreed for Berisha not to be a Prime Minister any more. I'd be interested to see a great victory with more than 200 thousand votes in favor for this coalition. The other issues are in accordance with the rules of democracy. The relations with the SP are constructive. The same principle will apply with the other forces of the coalition after June 23", said Meta.
As far the declaration of Prime Minister Berisha according to which Ilir Meta aims to take his seat, Meta responded, "Berisha doesn't have the will to vote the three laws because this proposal comes from the SMI and the SMI is part of the opposition, so he comes up with these things."
According to Meta, the only solution to overcome the obstacle in the Central Election Commission is to put faith on this institution through constructive dialogue between the parties. "The opposition has no reason to legitimize the destruction of this institution caused by Berisha. This is an issue for which Berisha must be held accountable, because we're the only country in the region which has such problem", said Meta.
The head of the SMI reiterated his invitation for the voting of the three laws of integration in parliament in the coming days, with the condition that they're enacted in September. "If Berisha is sure about his victory, why is he scared for this laws to be enacted in September", said Meta during this press conference. /ibna/