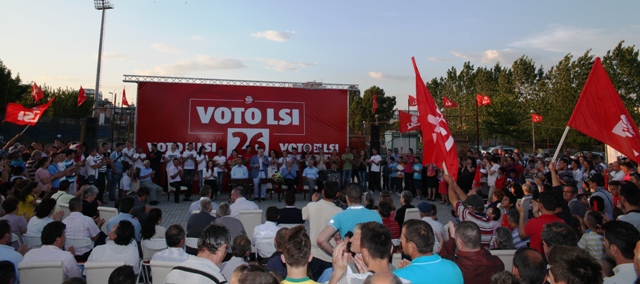 Durres, June 14, 2013
The leader of the Socialist Movement for Integration, Ilir Meta declared during an electoral meeting in Durres that to SMI, June 23 is very important, because the victory must be very solid, as this is the only way to carry out solid reforms for the improvement of the life of the people of Durres and Albania.
Sure about the victory of the left wing and SMI, Meta said that, "the vote in favor of SMI is a vote which helps the development of the country. SMI has clearly shown that it's a coherent force which helps Albania to move forward toward development and European Union.
According to Meta, SMI has proven that it's a political force that helps the stability and integration of the country. "SMI played an important role for the liberalization of visas. Even two weeks ago, beyond every expectation, it insisted and managed for the three bills of integration to be voted in order for Albania to be granted the EU candidate status in December and to benefit more funds in order to open new jobs", said Meta.
"SMI has a very clear program, because it aims the restructuring of the economy, in order for the economy to grow, by clearly identifying the sources of this economic growth in order to increase domestic production for imports to fall and exports to grow. This program has identified the essence of the problems of the country and the main problem that the economy is facing today is the restructuring of the economy", said Meta. /ibna/