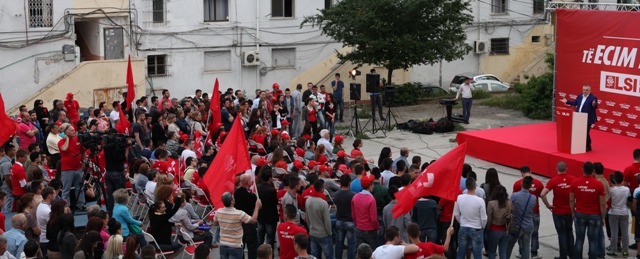 Tirana, May 25, 2013
We cannot accept the country to be the only one which conducts elections with half of the Central Election Commission and with problems that do not honor us after 22 years of political pluralism and democracy, said the leader of the Socialist Movement for Integration in an electoral meeting at borough no. 10 in Tirana.
According to him, on June 23, by voting the SMI, by voting for change and by enabling political rotation, we offer a great opportunity to Albanian people to feel more relieved on June 24, to feel united and to collaborate in order for Albania to progress faster.
"We hope that the three laws of integration will be voted on Monday in order to offer Albania a real chance to be granted the EU candidate status, because this means more financial support by the EU, more projects, more new jobs for all young people who want to have a European future here in the heart of Tirana and everywhere else in Albania", said Meta.
The leader of the SMI, Ilir Meta said,  "that June 23 is coming and we will modify a little the slogan "let us walk faster" into "let us run faster", because there are only a few weeks remaining and I have faith on the members and supporters of the SMI."
The Socialist Movement for Integration sees youth as its spirit and not as mere participants, said Meta during the presentation of the candidate for parliament of this party, Kejdi Mehmetaj.
Meta said that there's a clear distinction between the SMI and the current Prime Minister. "The only concern to him is how to keep his chair, whereas our concern is how to employ Albanian people, how to create new jobs for the young men and women of this country, how to guarantee them a future, because unfortunately, Albania is in the middle of a stagnation, in the middle of both a political and economic gridlock", said Meta.
"To the current Prime Minister, his chair is more important than the people and unfortunately, he's showing this everyday. He talks about extraordinary achievements, while the country has major problems. He promises that he will open 250 thousand new jobs in 4 years, whilst in 8 years, he closed jobs. Even China has a law which doesn't allow leaders to hold their post after the age of 70. We will now offer Albania a chance to make a change, a chance to the Democratic Party to be reformed because it has major issues", concluded Meta during the meeting in borough 10. /ibna/