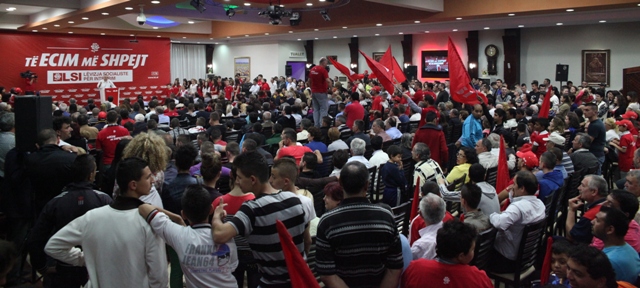 Tirana, May 18, 2013
The Socialist Movement for Integration is a political force which belongs to any generation, but youth in particular, said the chairman of the SMI, Ilir Meta during a meeting in borough 3 in the capital.
The slogan of the SMI, "Let us move faster" has been proposed by the Youth Movement for Integration, which according to Meta, "is the adrenaline of the SMI to win all challenges".
The leader of the SMI said that employment is a priority of this party, unveiling the electoral platform which focuses on the employment of young people. "Employment is a priority of the SMI. In the electoral platform of the next 4 years, the employment of young people is our greatest priority. SMI aims to have a new political model, which is based on production and the ability to export, as the basis to guarantee a sustainable economic growth and sustainable employment. The foundation of this new economic model is the professional formation of the youth in order for them to be employed in key sectors of the economy", said Meta.
Meta said that professional formation of the youth will be paramount to the program of the Socialist Movement for Integration. "The future government will pay a part of the salary of every young person who doesn't have the necessary professional formation in order to find a job and to reduce the costs of businesses, which need to recruit. The employment of women is another priority of the SMI. SMI has been the first political force which has supported the industry of textile, as the industry which employs the largest amount of people in the country", said Meta.
Meta said that the involvement of young people not only in the list of candidates for parliament, but also in the future parliament is a guarantee that young people will play an important role in the next government.
"We know that your borough faces acute problems, such as the issue of the legalization of properties, where endless bureaucracies have made it impossible to be issued with the ownership certificate. We will end the negative practices followed by the Democratic Party during its 8 years in government", concluded Meta. /ibna/