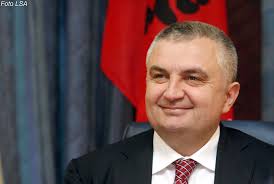 Tirana, May 31, 2013
The leader of the Socialist Movement for Integration, Ilir Meta told students of a private university in Tirana today that the ratification of the three laws of integration, which according to him enjoyed consensus at the climax of the electoral campaign, reflected the responsibility of political parties in the country.
"Two positive events took place today. The three laws of the integration were voted at the climax of the electoral campaign, which shows an act of responsibility and cooperation in the best interest of the country. We hope that we have as many events like that as possible in order to move forward with an Albania of higher standards. Yesterday we also had the success of Elhaida Dani, a young singer which achieved great success in a large European country", said Meta.
According to Meta, the economic situation based on the latest report of the European Bank for Development, must be an alarm bell. "The European integration is a concrete plan, and besides an institutional one, it must be above all a successful economic integration", continued Meta.
Referring to the SMI program on long term measures for the recovery of the economy, with the scope of achieving a successful national project for the European integration, Meta said that, "foreign investments have fallen, public debt has grown, the pressure of the European crisis is increasing. All these show that it's urgent to take long-term measures for the recovery of the economy in order for us to have a competing economy. In order to achieve this, production in the country must increase, along with exports toward European markets with the scope of guaranteeing economic growth and long-term employment".
Meta added that, "Employment must increase as soon as possible. The government must build industrial parks and the collaboration with the private sector must not be neglected. There must be an agrarian revolution and not like the one that we had. The destruction of agriculture is a great problem. Agricultural associations must be created in order to make technological investments for the growth of production", said Meta.
Meanwhile, as far as the interest of students on taxes is concerned, the leader of the SMI said that, "my party has not been involved in these policies, because employment and production has been a priority. Taxing policies are important, but not a scope in itself.  Production is paramount, as without it, there can be no taxes. It's important for tax policies to aim the growth of employment especially amongst young people", said Meta. /ibna/