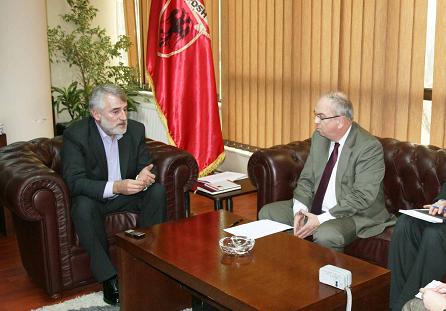 Tetovo, June 24, 2013
The leader of PDSH, Menduh Thaci has received today at the seat of the party the OSCE ambassador in Skopje, Ralf Breth.
During this meeting, the two personalities talked about the current political issues, about the local government elections of 2013, the progress on the integrating process and other political issues.
The leader of PDSH, Menduh Thaci  has expressed the complaints of this party about the elections and the numerous frauds that characterized these elections. As far as the integration of the country is concerned, Thaci said that "the government is lying the people about the holding of negotiations for the solution of the name dispute. This issue has been blocked and this is bad news for FYROM".
OSCE ambassador Beth has praised the positioning of PDSH, its active institutional participation and the constructive stances manifested with the scope of unblocking the integrating process of the country. /ibna/