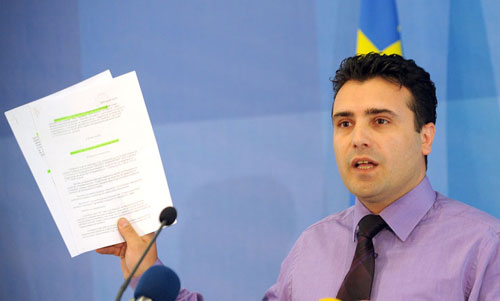 Skopje, September 26, 2013
The leader of the largest opposition party, LSDM, Zoran Zaev declared today that he will publish proofs of criminal acts and abuses of Prime Minister Nikola Gruevski and his family.
"Gruevski has appointed his two cousins in the most important posts, secret services and customs. His closest godfathers have been appointed in the directorate of inland revenues and ministry of finance. This cannot happen in normal democratic countries. I have information about criminal acts and transfer of money. Everyday we will publish data for these criminal acts and money transfer. Everyday we will publish everything for these criminal acts of Gruevski and his family", declared Zaev, leader of Social Democratic League of Macedonia (LSDM) in an interview for Novatv.
According to him, this power is coming to an end and the support shown in the latest surveys is due to the fear that exists amongst citizens.
Zaev has demanded a live TV debate with the Prime Minister and leader of VMRO-DPMNE, Nikola Gruevski. /ibna/