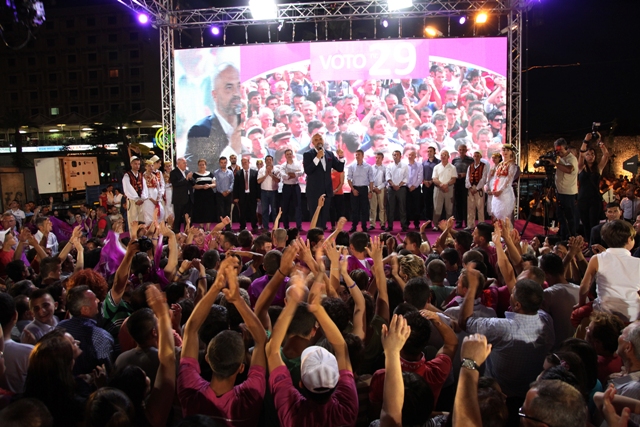 Peqin, June 17, 2013
The Socialist Party held an electoral meeting today in the town of Peqin. "Yesterday's meeting in Elbasan showed to the Prime Minister that Albanians cannot be fooled by electoral inaugurations of tunnels", said the leader of the SP who was present in this meeting.
Praising the presence of many people in the square of Peqin, Rama said that "this is the spirit of renaissance which is coming. This is the day to manifest here in the center of Peqin the desire to put an end to a history of destruction".
According to Rama, the people cannot be fooled with electoral roads and tunnels. "This people is on the verge of the decision to get out of the tunnel of unemployment, of the tunnel of poverty, illiteracy, pollution, corruption, crime and lack of hope where Berisha has put them during these 8 years", said Rama.
Durig this meeting, Rama also talked about the "sale of the vote" demanding to people to refuse the sale of their vote and to embrace the dream of renaissance. "Despise those who knock on your door to buy your vote and embrace the dream of renaissance by voting on June 23 and by putting an end to the destruction. By voting the Socialist Party, you will be freed from an improverishing regime. We will support you and resolve your problems", said Rama in Peqin.  /ibna/