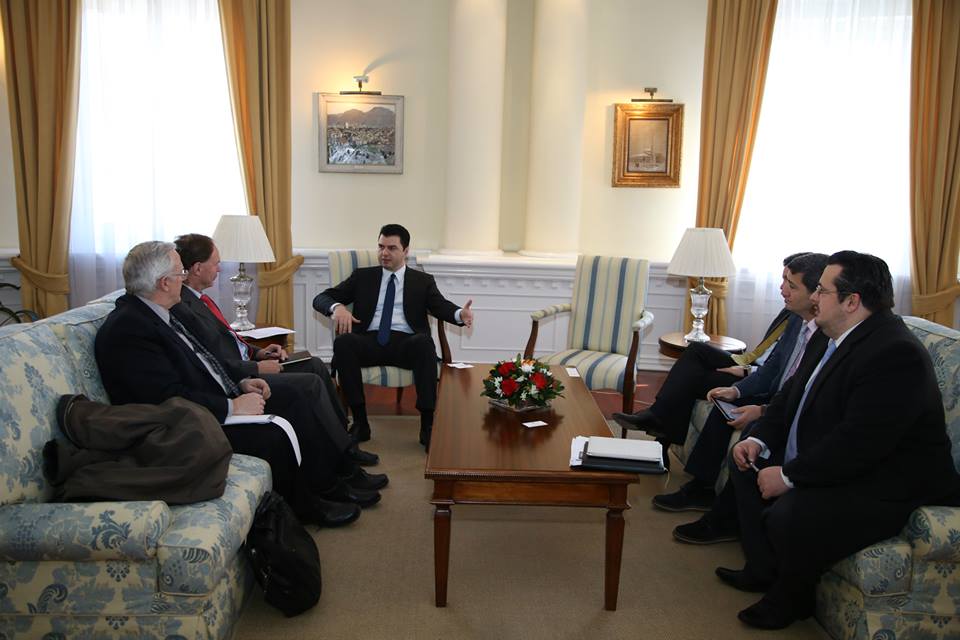 Tirana, March 17, 2014/Independent Balkan News Agency
The head of the association of municipalities of Albania and mayor of Tirana, Lulzim Basha has received today (17.03) in a meeting the IMF mission for technical assistance in the system of taxes led by Mr. John Norregaard (photo).
Mr. Basha has expressed the concern of local government about the way that the government is behaving and the threats being imposed on local government autonomy.
"The arrogance of the new government consists on the fiscal package which led to an increase of taxes and centralization of the collection of taxes for small businesses", said Mr. Basha.
According to the leader of opposition, businesses of all sizes in the country are facing the problems dictated by the new fiscal package which in spite of the objections that it encountered, from stakeholders and opposition, which introduced the progressive tax that increased tax on earnings for corporation by 50%, from 10% to 15%, something which has led to an increase of tax evasion.
Mr. Basha also talked about the decision of the government to collect taxes for small businesses, without consulting local authorities.
"This decision which was taken without consultations and financial compensation has led to a lack of incomes in the budget of municipalities and communes of the country. This centralization in the collection of taxes for small businesses has led to 8% fewer revenues for the budget of municipality of Tirana. This lack of revenues cannot be recovered by the tax on properties, which was doubled with the new tax package", said the mayor.
According to Mr. Basha, the collection of this tax is a major problem which is encountered by every local government.
Mr. Basha has expressed his concern as head of the association of municipalities and mayor of Tirana about the "poor performance and arbitrary behavior of the government in these 6 months". /ibna/