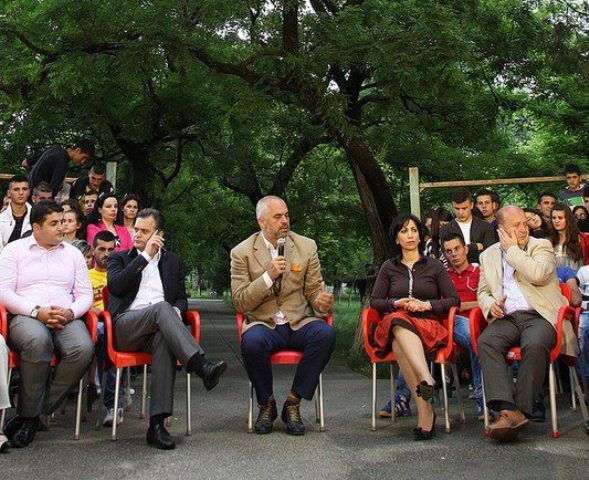 Poliçan, June 7, 2013
Number 44 on the ballot paper shows that Berisha has received a 4 grade in the first term in office, a 4 in the second and now he comes and demands another mandate, said the leader of the Socialist Party, Edi Rama today in Poliçan.
During a meeting with voters, Rama said that, "I don't know what Berisha will tell to the people of Çorovodë, as he has passed through Berat to arrive here. It's a real disgrace that this area resembles to an area which has just come out of a war and not an area which has experienced 20 years of democracy".
The leader of the opposition said, "these roads are the biggest accusation of this constituency for this government, which says that it has built 10 thousand km of roads, which in fact are inaugurations of alleyways taken place two or three times".
According to Rama, the road that links Poliçan to the peak of the mount of Tomorr is another hard proof of the lies that this government has told. "In the four years to come, we will do in Berat what hasn't been done in 20 years", promised Rama.
"Every institution of this state is filled with products of political militancy or extreme corruption", said Rama while talking about the future of the Mechanical Plant of Poliçan.
"Jobs are bought not only in this Plant, but in all other institutions. This was also denounced by a young girl in the suburbs of Elbasan, who was qualified and took the courage to denounce it. Berisha must be held accountable about the fact that a job as a teacher in Labinot costs 5 thousand Euros! Imagine what happens in the police structures which are linked to the underworld. Our challenge is to give people the opportunity to work and find a job. All of those who have been unjustly dismissed from work, will be reinstituted", said Rama.
"Now he promises that he will introduce the 13th wage. He heard what we said about honest taxation. He heard that we promised to issue land certificates and he made the same promise. There are no more Albanians that believe what Berisha says", said Rama in Poliçan. /ibna/