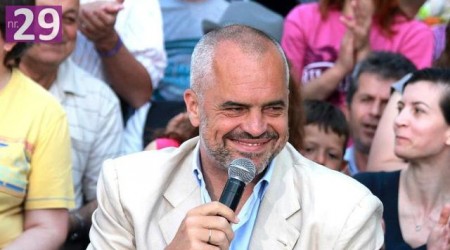 Perrenjas, June 18, 2013
The leader of the Socialist Party, Edi Rama held a meeting today with voters in Perrenjas, where he reacted about the declaration made today by Prime Minister Berisha over the decrease of the retirement age for miners to 50 years old.
"He has talked today about the retirement age of miners knowing that we were going to be here today. I'm sure that until Friday, he will decrease this age to 40 years old. He decreases the retirement age for miners, but he doesn't want retirement for himself", said Rama.
"I feel sorry for our country, for the state in which this Prime Minister reduced it to, who follows the campaign of the Socialist Party step by step, trying to avoid defeat that awaits him with abusive promises, with abuse of his public post and with the denigration of the dignity of voters", said Rama.
As far as properties are concerned, Rama said that "the process of properties in Albania has gone through a mish-mash which every year becomes complicated, because besides the problems that this process has, there are also the abusers of the Prime Minister's entourage, who have violated the law and the state", said Rama.
According to Rama, the problem of properties in Albania has 2 aspects: owners continue to be dragged into endless judicial processes, farmers work a land that they don't own. "We will immediately launch a transparent process for the restitution and compensation of properties, an omni-potent commission which will solve the problem of properties", promised Rama.
"Within the first term in office we will conclude the issuance of land certificates. We will complete the process of legalizations and put an end to this endless charade with properties. The legalization will be free", said Rama during a meeting with voters in Perrenjas. /ibna/