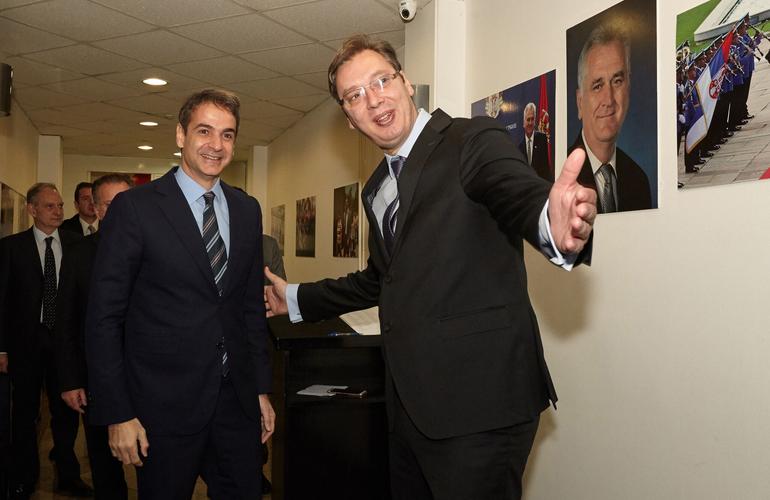 Greece and Serbia were factors for stability in a region of rising uncertainty, main opposition New Democracy leader Kyriakos Mitsotakis said on Tuesday, following his meeting with Serb Prime Minister Aleksandar Vucic in Belgrade.
Mitsotakis said his talks with Serbia's premier had touched on "our concerns following the recent statements of Turkish President Recep Tayyip Erdogan about the Lausanne Treaty. We agreed that such statements do not help to cultivate a climate of cooperation in the region," he said.
ND's leader also congratulated the Serb prime minister on his country's progress in EU accession negotiations and promised to support the country's efforts to join the EU, as well as praising Vucic's reform efforts and his "will to speak the language of truth and not succumb to populism."
"It is very easy, in our times, to tell people what they want to hear. It is much harder to carry out real reforms that have a short-term cost but generate results on a medium-term and long-term basis," he said.
Mitsotakis said there were significant margins for improving bilateral economic ties, attracting more Greek investments to Serbia but also promoting Serb investments in Greece, as well as boosting tourism traffic between the two countries.
During the visit, ND's leader also met Serbia's President Tomislav Nikolic and Serb Patriarch Irinej.
Addressing Greek business people in Serbia, Mitsotakis said that Greece needed a "bold escape forward through political change," and a government with a different approach to tackling the crisis.
"Greek society is ready for a bold, liberal proposal capable of loosing the bonds that keep enterprise stagnant," he said, noting that the country's economy has to become open and competitive. This required a government with an entirely different approach, which would dare to significantly reduce taxes, starting from businesses, and cut public spending, he said./ΙΒΝΑ