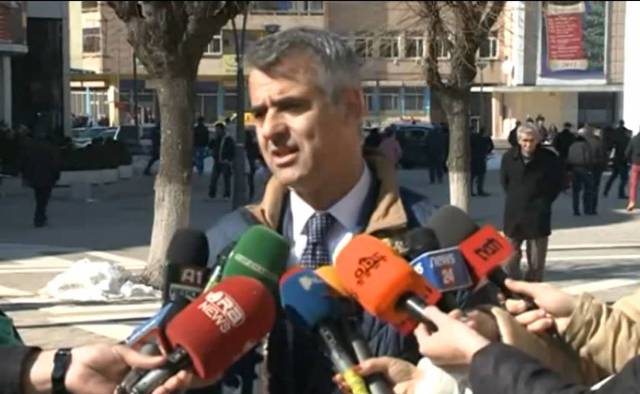 Leader of UHRP, Vangjel Dule: We must unite and not blame each other toward criminal catastrophes
Tirana, February 16, 2015/Independent Balkan News Agency
The party that represents the Greek minority in Albania, calls upon the main political forces to avoid clashes among them and unite on major issues, such as natural catastrophes or fight against crime.
Vangjel Dule, leader of the United Human Rights Party and vice speaker of parliament, was in Korca, where he launched messages for the political class.
For the first time since after the strong clashes with PM Rama on the territorial reform, Mr. Dule used softer tones against the government.
Dule commented the measures taken by the government about the flooding emergency in the southwestern part of the country. He said that a government cannot be fully tested in emergency situations. "In such emergency situations, a government or a drafted policy or implemented in a four year period, cannot be tested", said Dule.
"Such situation tests a state's reflexes, how organized it is, the potential to react fast in facing emergency situations and in eliminating consequences. Of course, we must all be sincere about the fact that we have not guaranteed such potentials to the state", said the vice speaker of parliament.
Dule said that cooperation between government and opposition is lacking. "What's missing in our country is that in case of such emergency situations, humanitarian catastrophes, the political class is united, but in our country it's polarized. This consists of a clear evidence of the extreme lack of maturity, which characterizes the political spectrum in the country in general and not in one or the other camp".
Dule also spoke of the bomb explosions and the uncommon situation that Tirana is going through in the recent days. "It's a situation that must worry us,-said he-, that crime continues to be organized and challenging government structures and policies. We must be aware of this".
For Mr. Dule, in both the case of emergencies and terrorist acts that affect ministers of common citizens, where state structures or private businesses are impacted, they must find us united in a front against it.
Mr. Dule says that examples in Europe and civilized world are numerous, while he regretfully says that "in Albania, instead of  unifying our voice, we point our finger, not toward crime and terrorism, but against each other". /ibna/