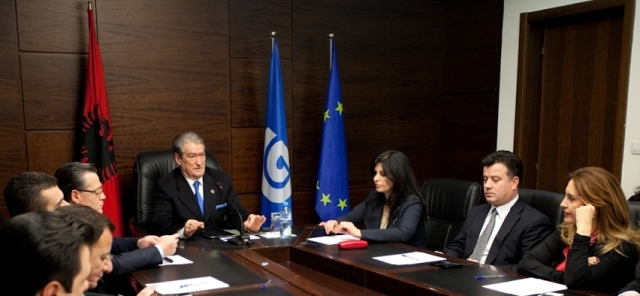 Tirana, June 28, 2013
The Democratic Party leading board held a meeting today presided by the acting chairman Sali Berisha.
In his speech, the democrat leader thanked the democrat electorate and declared that this party will soon open the race for the leadership of the DP.
"The DP has suffered a clear defeat. It's in our duty to offer the party a new beginning. First of all, it's true that the Democratic Party lost its battle, but it is supported by hundreds of thousands of people, the most qualified forces of this country, which have offered a contribution and which are part of our achievements during these years. These forces are today determined more than ever for the alternative, Albania a developed country", said Berisha.
Berisha added that these are the reasons that make democrats stronger and more determined.
According to him, the DP has a large number of members and militants who are determined to prepare for the next electoral battle in two years time.
Berisha said that a new start will be marked with the new parliamentary group which he considered as qualified and comprised of people who know the government very well.
The leader of the DP said that a new start would be impossible without a new leadership, therefore he demanded for procedures to be launched in order to elect the new leadership.
"The new leadership is lucky not to bear history on its back, but the legacy of the Democratic Party. It must be elected according to the principle 'one member, one vote' and I'd like to urge all members of the DP to consider this process as a vital mission for the important and successful begging of the Democratic Party", said Berisha amongst others.
Meanwhile, the leader of the DP said that the new leadership will analyze this defeat, which was a serious one.  Berisha said that the race for the new leadership will kick off next week. /ibna/