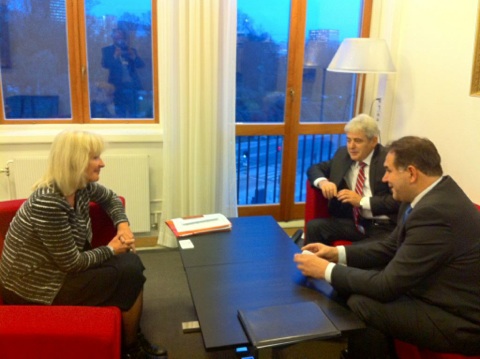 Skopje, December 4, 2013
Leader of BDI, Ali Ahmeti has concluded his visit in the Scandinavian countries. In Oslo, he met with senior state officials and in Denmark and Sweden he met with heads of the respective foreign ministries. In the framework of this visit, Ahmeti has demanded the help of international friends to move forward with the process of integration in the Euro Atlantic structures.
"Every delay in the realization of this scope causes difficulties for the country and the advancement of the joint achievements in the last decade. International community and NATO and EU member countries must be involved in the solution of the name dispute with Greece, an issue which is preventing our integrating process", said Ahmeti.
Head of BDI has stressed the need for the solution to the name dispute, while for this, he has demanded to Scandinavian authorities to help in the process of negotiations for the solution of the name dispute. /ibna/