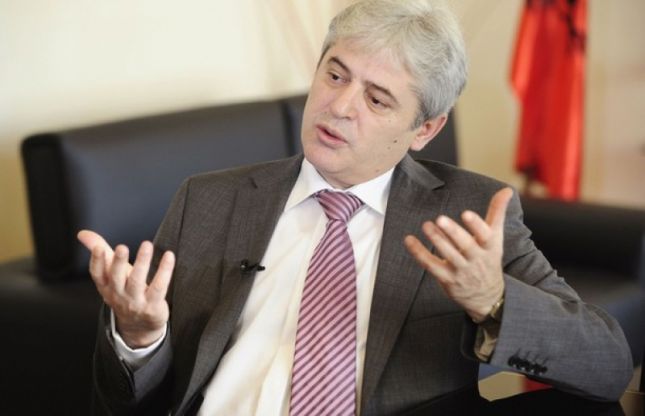 Skopje, February 13, 2014/Independent Balkan News Agency
By Naser Pajaziti
The leader of BDI (Democratic Union for Integration), Ali Ahmeti (photo) says that the party that he leads insists on the idea of an ethnic consensual candidate for the president of FYR Macedonia.
Mr. Ahmeti held a meeting today (13.02) with the raportteur of the European Parliament, Richard Howitt.
After this meeting, Mr. Ahmeti talked about the issue of the election of the new president, an issue which has sparked many debates in Skopje's political arena.
"We have launched the idea for a consensual president. This idea is still on the table. We will not change our stance and we expect parties to reflect. The country needs an acceptable candidate for everyone. We must end once and for all the practice whereby one side contests the election of the President", declared the leader of BDI.
According to him, the proposal of BDI must be clearly understood, in order for the two biggest parties in the country, BDI of the Albanian community and VMRO-DPMNE of the Macedonian community, to sit down and find compromise for a consensual presidential candidacy.
Stressing the need for parties to sit down and talk about this, Mr. Ahmeti demanded a name which would be acceptable for Macedonians, Albanians and other communities of the country.
Asked as to whether he has talked about this issue with prime minister Nikola Gruevski, Mr. Ahmeti said that he has talked with all parties in the country on this, but he didn't issue any more details.
On the other hand, VMRO-DPMNE of prime minister Nikola Gruevski has made it clear that its candidate will come out of the party's conference which will be held next month.
Indirectly, this party has ignored BDI's idea for a consensual president, but BDI has warned a boycott of the elections by Albanians in case their proposal is not taken into account. /ibna/