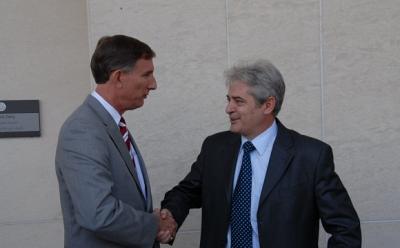 Skopje, September 24, 2013
Leader of BDI, Ali Ahmeti has called upon USA to offer a direct contribution in the solution of the name dispute.
This demand was addressed by him to the US ambassador in Skopje, Paul Volers following a meeting held in the US embassy in Skopje.
According to the press release issued by BDI, Ahmeti demanded from the USA, through ambassador Volers, to make a direct intervention in the solution of the only obstacle which prevents FYROM to become a NATO member and for the negotiations for EU accession to be launched.
"The name dispute must not be an obstacle for the strategic priorities of FYROM, therefore a rapid solution is needed with the intervention of international community", said Ahmeti.
On the other hand, ambassador Volers stressed once again that USA supports Euro Atlantic aspirations of FYROM and encourages dialogue between FYROM and Greece for the solution of the name dispute. /ibna/