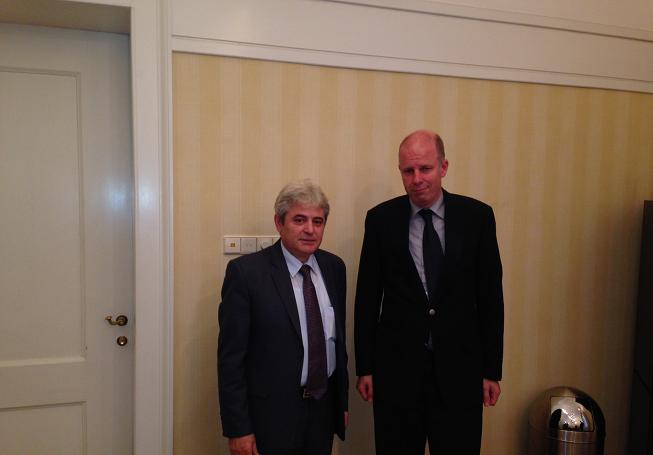 Skopje, October 8, 2013
Leader of BDI, Ali Ahmeti, who is in a visit in Hague thanked Dutch diplomats and military officials for the achievement of peace in FYROM and the consolidation of democratic institutions, stability and security in the country.
Artan Grubi, head of the cabinet of the leader of BDI, Ali Ahmeti said that all the achievements along with international community in the decade following the Ohrid Agreement must not be jeopardized with the delays for the accession in the NATO and EU.
"It's this joint investment and these achievements are finalized by integrating the country in the Euro Atlantic structures therefore our friends, such as Holland and other EU countries must continue their efforts in overcoming all obstacles that hinder us in this path and jeopardize the achievements made so far", declared the leader of BDI, Ali Ahmeti in the meeting with the Political Director of the Dutch Ministry of Interior, Auke Venema and the Military Atachee for FYROM, Jan Willem de Wolf.
According to him, the solution of the name dispute is a real obstacle and a challenge for the future of the country, therefore he demanded from Holland to be involved in the solution of the name dispute with Greece in order for Western Balkan to enjoy stability.
Ahmeti will continue the meetings at the Dutch Foreign Ministry and in the parliamentary committees for foreign affairs and European issues. /ibna/