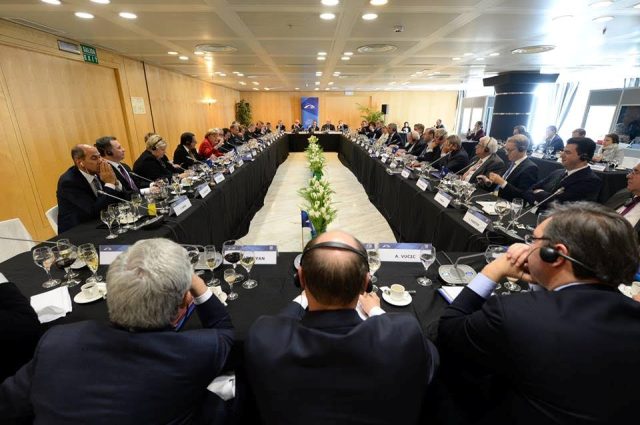 Tirana, 22 October 2015/Independent Balkan News Agency
The leader of the Democratic Party, Lulzim Basha participated today in the Summit of European People's Party, where the situation in the Balkan was discussed.
Basha denounced what he considered to be the state capture by organized crime and oligarchs who have ties with people in power and the concentration of power and public assets in very few hands.
According to Basha, these phenomena have led to a serious economic situation in Albania, insecurity and economic crisis.
The head of the Albanian opposition also pointed out the high number of asylum seekers from our country, who have reached EU countries in the recent years.
"The organized crime which has captured the state has very serious consequences for the economy, causing a large increase of the number of asylum seekers, similar to the number of Syrian asylum seekers which are fleeing the war".
This situation, Mr. Basha added, makes it necessary for the European Union to focus its attention to Albania, where as a result of a joint governance with crime, democratic standards and the rule of law are violated and where citizens are unjustly attacked.
During his participation in the EPP Congress, Basha also met and talked with the President of the European Council, Donald Tusk, the President of the European Commission, Jean Claude Juncker, the EU Enlargement Commissioner, Johannes Hahn, the head of the European People's Party in the European Palriament, Manfred Weber and several prime ministers.
Basha said that during these meetings, he has expressed his concerns "about the extraordinary situation that Albania is going through, where drug lords and smugglers of human beings, are controlling parliament, the government and a part of the local government".
The democrat leader said that corruption has reached alarming levels and the money of the citizens is being stolen on a daily basis through corruptive tenders by people in power.
Mr. Basha asked to his interlocutors to bring their representatives to Albania in order to closely monitor the situation and to see for themselves how , the majority is challenging on a daily basis the foundations of democracy, rule of law, human rights and liberties.
The interlocutors have offered their support to Mr. Basha and DP in the challenges that the opposition faces and in order to offer a new governing alternative for Albania. /ibna/