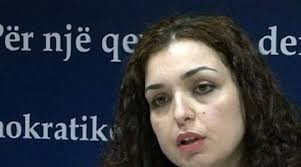 Pristina, October 23, 2013
Democratic League of Kosovo (LDK) has accused Prime Minister Hashim Thaci of violating electoral rules. Through a press conference delivered today, LDK has accused Thaci of obliging people to make their vote public, by publicly asking them as to who they will vote for.
"According to article 45, the vote is personal, free and secret and this is one of the basic human rights. Prime Minister Thaci is breaking this constitutional provision by exerting psychological pressure on the people", declared the spokeswoman of the electoral staff, Vjosa Osmani.
Osmani has also quoted articles of the Penal Code of Kosovo that punishes this act. "Penal Act of Kosovo has entered in force in January 2013 and according to this code, whoever threatens the secrecy of voting is sentenced to 6 months in prison and whoever exerts pressure against one person to reveal his vote, is sentenced up to a year in prison", said she. /ibna/