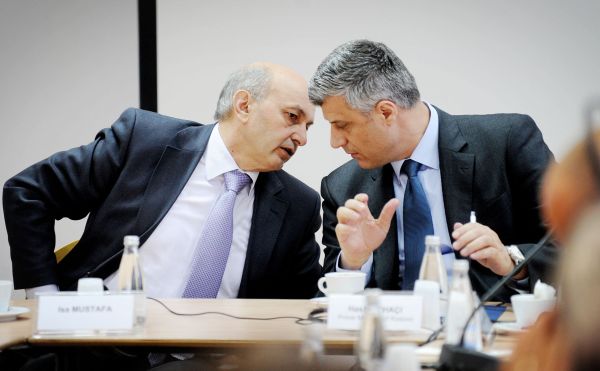 Pristina, June 10, 2014/Independent Balkan News Agency
By Elton Tota
Post election debates continue in Kosovo on the formation of the next government. Representatives of the Democratic Party of Kosovo say that their political subject doesn't have any difficulties on finding coalition partners and that the government will be formed in a few weeks time.
Vice chairman of PDK, Kadri Veseli, declared that the next coalition will be a very good one.
"This will be a stable coalition and will work toward meeting the promises that we have made", said Veseli.
On the other hand, Democratic League of Kosovo led by Isa Mustafa is determined not to enter a coalition with the party of Hashim Thaci, PDK.
This was confirmed by vice chairman of LDK, Haki Rugova, who said that his party will by no means accept to be in a government with the Democratic Party of Kosovo.
"Although we're yet to have the final results of the general elections, Democratic League of Kosovo is determined not to enter a coalition with PDK", said Rugova.
The winner of local government elections in Ferizaj and head of LDK in this commune, Muharrem Sfarqa has rejected every possibility for a coalition with the Democratic Party of Kosovo.
"The red lines with PDK are still existent", said Sfarqa.
Under these circumstances, of LDK positioning doesn't change, the next government will be formed by the Democratic Party of Kosovo, Alliance for the Future of Kosovo and the minorities.
Thus, based on all possible calculations, the role of Ramush Haradinaj in the post election process is irreplaceable. But, it's not yet known what conditions will Haradinaj impose.
But it's a known fact that that he will demand the post of the prime minister. Nevertheless, it seems that Haradinaj's ambition to become prime minister will not come true, because this position is reserved to the leader of PDK, Hashim Thaci.
Enver Hoxhaj, vice chairman of PDK, declared that this party will wait until the result of the election is certified in order to start talks about the coalition.
He said that there are no red lines with parties with which a coalition may be formed. However, he said that the red line will exist when it comes to the post of the head of the government.
Expert on political affairs, Behxhet Shala said that following the victory in the June 8 elections, it's not hard for PDK to form a new government.
Shala has not excluded the possibility of a coalition between PDK and LDK or a coalition with the parties which have been in favor of the war, except Self Determination.
According to him, it's in the interest of the international community for Kosovo to have a government formed by the parties which were in favor of the war.
"The international community is interested to have a government formed by parties which were in favor of the war, because they consider their potential as an instability factor", said Shala. /ibna/