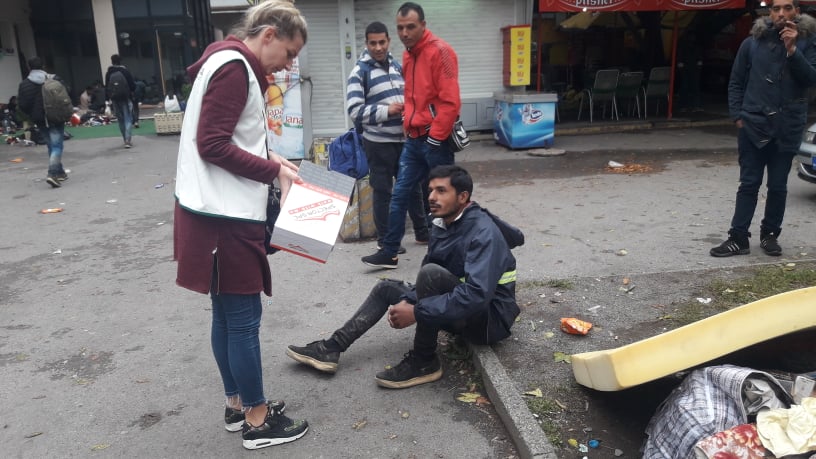 The BiH Red Cross Society and the Federation of Bosnia and Herzegovina Red Cross, together with the International Organization for Migrants (IOM) and the Danish Refugee Council, are working on health care for migrants in reception centers, while migrants who are on the move are covered by move mobile teams providing first aid.
Secretary-General of the BiH Red Cross Society, Rajko Lazić, said in a statement to local media that migrants outside the centers are a problem for them, with an estimated three thousand in Bosnia and Herzegovina.
"These are difficult conditions for migrants on the move; they sleep in train stations, under open skies. According to information from the ground, they are constantly on the move, from city to city. Specifically, in Tuzla, they come at a time when, together with other non-governmental organizations, we are delivering food, clothes… Then they walk around the city again, we see it in Sarajevo as well", Lazić says.
He points out that the Society has mobile teams located in Mostar, Una-Sana Canton, Tuzla Canton, Vlasenica, Bijeljina. They are the ones that have first contact with migrants. They are provided with meals, hygiene products, first aid, and psychosocial care.
"We are working on restoring families and broken family ties for the migrants who are on the move," he emphasized.
He points out that the influx of migrants to Bosnia and Herzegovina has recently been reduced due to weather conditions.
We have also registered their return to Serbia, where they have accommodation facilities. According to the statements of the Society's volunteers and staff working with the migrants, they are being accommodated in winter at the Red Cross and the facilities in the Republic of Serbia. Once the weather gets better, they will again try to break through Bosnia and Herzegovina wherever they can, trying to reach Western Europe.
Earlier this month, the Czech Republic secured a donation for the needs of migrants on the move through Bosnia and Herzegovina, worth about 176,000 BAM (88 000 Euro). It consists of raincoats, sleeping bags, blankets and sets of utensils that will come in handy because they generally sleep under the open skies and are supplied by the Red Cross BiH mobile teams.
Lazić says that there are currently about seven thousand migrants in BiH, of whom about four thousand are in centers and are mainly taken care of by the International Organization for Migrants (IOM). They have accommodation, food and health care./ibna