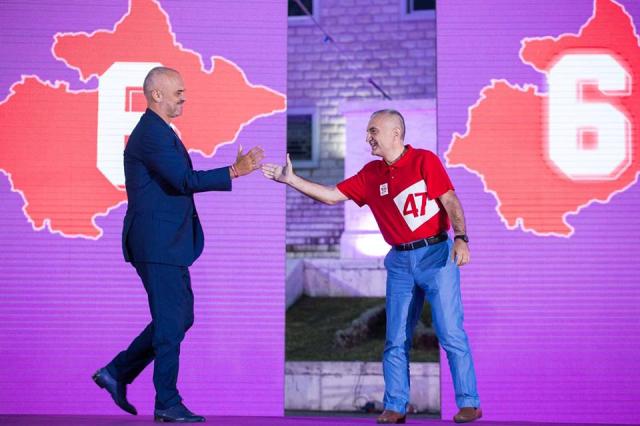 Analysis/The incident which led to a dead police officer and two wounded officers yesterday in Lazarat, almost diverted the attention from the elections and the result analysis which had just started, both in the government camp and also in the opposition camp
Tirana, 25 June 2015/Independent Balkan News Agency
By Edison Kurani
The long election campaign for the local government elections in Albania, started in a energetic way and continued with the same pace by the left wing under the leadership of PM Edi Rama and speaker of Parliament, Ilir Meta, who chair the two biggest parties of the coalition, Socialist Party and Socialist Movement for Integration. The campaign was also closed by Rama and Meta.
The election day saw the same thing: Rama and Meta came out with messages addressed to the nation.
But on day after the elections, everything changed.
The majority was divided in half in its stances for the elections.
The prime minister addressed the nation alone and praised the turnout and the victory of the left.
In fact, out of 61 municipalities, the left wing won 46 and opposition 15, thus giving the government strong reasons to talk about a big victory.
But on the same day, the other part of the coalition, SMI, was aggravated.
Secretary General, Luan Rama, publicly launched accusations of bargaining with ballots in those municipalities where the candidates were proposed by SMI and which were lost. And in fact, there's something that is not right here: In municipalities such as Pogradec, et, the candidate proposed by SMI, although he was running under the SP led coalition, won less votes than the left wing obtained for municipal councils.
Some say that socialist supporters were "advised" to vote massively for SP in the municipal councils and offer less support for the name proposed by SMI.
The opposite happened in municipalities where the candidates were proposed by SP. The votes there were the same for both the municipal councils and candidates, thus enabling a big victory.
On the same day, Rama's address was followed by a message of the leader of SMI, Ilir Meta, who congratulated the opposition's candidate. Mr. Meta praised the dignified campaign led by Halim Kosova who lost in front of Erion Veliaj in the race for Tirana.
This was the only appearance by Meta in public for the elections. Up until today, he hasn't congratulated Mr. Veliaj and he hasn't issued a declaration about the electoral process.
These developments have led to analysts in Albania to suggest that we have to do with a division between SP and SMI.
Amid all of this, a police operation takes place in Lazarat, at a time when the attention for the elections and their results was still at its peak.
It's not clear if attention now will return to the elections and the debates within the left, or if the sides within the majority will continue to work together, putting aside the problems that have been identified. /ibna/