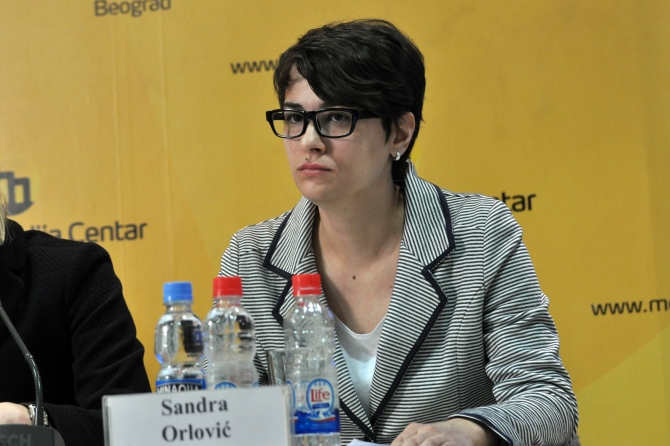 Pristina, February 2, 2015/Independent Balkan News Agency
By Elton Tota
Lawyer Svetozar Vujacic from Belgrade, has filed a lawsuit against the head of Human Rights Fund (HRF), Sandra Orlovic, who denounced Serb crimes in Kosovo.
She accused the chief of staff of the Serb Army, general Lubisha Dikovic of being responsible for the crimes committed in Rezalle and Old Cikatova and the burying of the bodies in the massive graveyard of Rudnica.
Vujacic says that he has filed a lawsuit in the quality of citizen, because the public accusations against general Dikovic "have caused concern among the citizens"!
"The publication of such untruths about the head of the Serb Army has caused great concern among the citizens, therefore I demand the authenticity of the incriminating declaration of Sandra Orlovic to be verified", said he.
Head of HRF, Sandra Orlovic says that lawyer Vujacic doesn't seem to have seen the file.
"Vujacic, who is the defense attorney of Ratko Mladic, doesn't seem to have seen the file, because he says that this file contains accusations similar to the ones in the file that we published in 2012 and although he's a lawyer, he doesn't seem to have heard that a massive grave has been found in 2013 in Rudnica, in the commune of Rashka
The Human Rights Fund possesses documents that prove that general Lubish Dikovic is directly responsible for war crimes committed by Brigade 37 of the Yugoslav Army which has been under his command."
Dikovic has denied the accusations addressed against him on war crimes and he considered them as "an attack against the Serb Army".
Coalition of NGOs for justice and against discrimination have demanded from authorities in Serbia to stop attacks against civil society and investigate in relation to the declarations of the Human Rights Fund on Dikovic's responsibilities for the war crimes committed in Kosovo. /ibna/