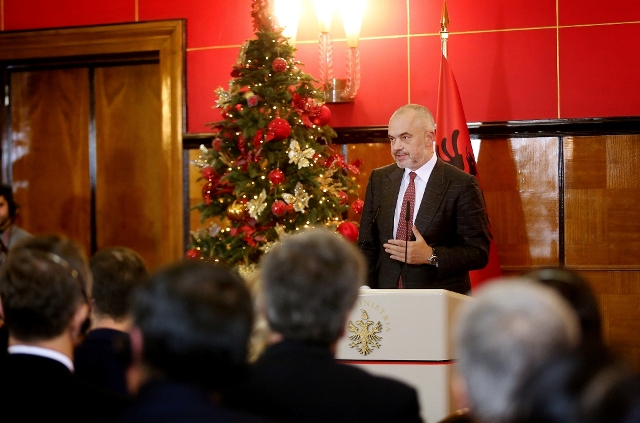 PM Edi Rama says that if the Constitutional Court doesn't take into account the opinion of the Venice Commission, this would be an undeserved slap to the Albanian people.
In a speech delivered on Tuesday evening in the end of the year reception with ambassadors and diplomatic representatives accredited in Albania, Mr. Rama put pressure on the Constitutional Court, as it was the case with the US embassy.
Rama said that "there's nothing left now but for the Constitutional Court to confirm the Opinion".
"The opposite would be a slap, not only an undeserved slap, but also a true burden for the Albanian people who's been seeking justice for the past 26 years and today, thanks to the support of the United States of America and the European Union, it has the chance to feel justice, which it has waited and deserved for 26 years", Mr. Rama said.
He added that he's looking forward for the Constitutional Court to rule out and then put a question mark on the decision of this court to seek the aid of the Venice Commission in relation to the Vetting law.
"A question mark has been raised in the eyes of the entire public opinion since the moment when the law was taken to the Venice Commission. Now, after the Opinion of the Venice Commission has arrived and it is clear for everyone, although you have seen that a debate has started in Albania on who is more capable of translating from English to Albanian or from Albanian to English, nothing else is left now but for the Constitutional Court to confirm the Opinion".
***
Several times in his public appearances, Mr. Rama has put pressure against the Constitutional Court and has encouraged it to give way to the vetting of prosecutors and judges. At the same time, Mr. Rama has not spared his accusations against the justice system, considering it as passively corrupt and involved in criminal affairs.
Mr. Rama has also been joined by US and EU diplomats in these accusations. The perception of the people in Albania against the current justice system is also high. Most of people believe that the majority of judges and prosecutors are corrupt, thus causing many serious consequences for the Albanian society. /balkaneu.com/