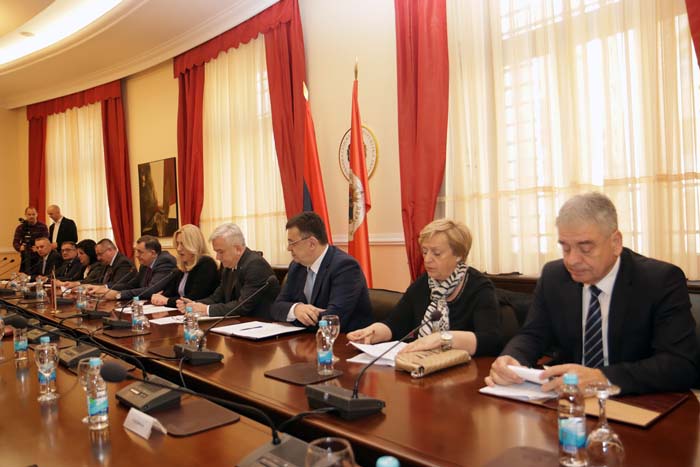 Representatives of Republika Srpska at the level of Bosnia and Herzegovina will suspend their participation in decision-making on any matter within the jurisdiction of the BiH authorities until a new Law on the Constitutional Court of BiH is adopted, with no foreign judges. This was concluded on the urgent meeting of all Serb representatives in the state institutions with Republika Srpska President, Željka Cvijanović.
This position was adopted following the decision of the Constitutional Court of Bosnia and Herzegovina, which declared unconstitutional the Law on Agricultural Land of the Entities of RS. According to the decision, all agricultural land belongs to the state, not to entities. That means that two entities in BiH, Republika Srpska (RS) and Federation BiH have just borders, but are not owners of the land within these territorial lines. This decision made Republika Srpska authorities furious and Serb member of the BiH Presidency and leader of the biggest party in RS, Milorad Dodik, called the decision "a kind of coup d'état". For many politicians in RS, this decision signifies a major change in the Dayton peace agreement.
Participants on the meeting also concluded that an emergency session of the RS National Assembly is needed to discuss decisions of the BiH Constitutional Court, said RS President Željka Cvijanović.
She said at a press conference that for years the decisions of the Constitutional Court of BiH have been detrimental to RS's interests and very often have fallen outside the jurisdiction of the Constitutional Court.
In addition to representatives of the ruling coalition in the RS, Agriculture Minister Boris Pašalić, and RS Constitutional Court President Džerard Selman also attended the meeting held at the RS presidential Palace.
Contrary to reactions in Republika Srpska, Federation BiH officials welcomed the Constitutional Court decision stating that this is the only normal and fair decision the Court could make. Croat member of the BiH Presidency and present Chairman, Željko Komšić, said that any kind of announcements of disobedience and rejection of court decisions under the law anywhere in the world is regarded as an act of sedition and putting oneself above the law.
"The more institutions are being attacked, the more determined we will be to defend them. Any actions against the BiH Constitution are unacceptable and no amount of noise or swearing could change the decisions of the institutions of BiH and thus the decisions of the Constitutional Court of Bosnia and Herzegovina", Komšić underlined.
Bosniak representatives call the international community and Office of the High Representative to react saying that the decision of the Serb representatives in the joint institutions is a "violation of the Dayton peace agreement" – which is their usual behaviour in similar cases.
It is expected that a special session of the Republika Srpska National Assembly on this issue will take place next Monday and that majority of MPs will reject the Court's decision. Whatever that means…/ibna