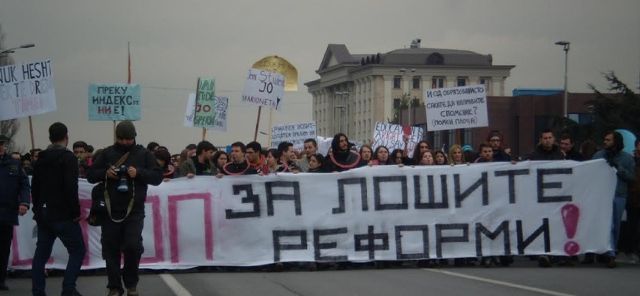 IBNA Special Report
Skopje, December 23, 2014/Independent Balkan News Agency
By Naser Pajaziti
The approval of a new law on honorariums by the government in FYROM has sparked reactions and protests of journalists, experts and different fields and workers.
Under the new law, as of January 2015, all those who are paid honorariums, will have it reduced by 35% and this amount goes for the payment of health and retirement contributions.
Independent Journalists and Media Workers Union (IJMW) has strongly reacted against this law, demanding its abrogation by the government, because this law damages 150 thousand people.
Head of IJMW, Tamara Causidis said that these changes will mostly affect journalists, because one in three journalists works on honorariums.
"This revolt comes as a result of ignoring the law, because these changes will make the poor poorer and the rich richer", said Causidis, stressing that their revolt will also be expressed through protests.
As of January 1, 2015, there will be a new method in place for the payment of retirement contribution, disability contribution and health contributions for people who work on honorariums. So far, this category must only pay 10% of income tax, while this percentage goes up to 35%.
The fresh amendments are not expected to apply to honorariums for professional sportsmen, officials, MPs, advisers and the government representatives.
According to LSDM in opposition, this move will help the government to collect more money from the citizens in order to cover the big hole in the Pension fund, which now amounts to 22 billion denars or the equivalent of a year's worth of salaries, contributions and compensations for all public servants. LSDM wants to know why the Fund's budgets for pensions, disability allowances and health insurance are empty. "Slowly but surely, comes the time when VMRO-DPMNE will pay for its wrong policies", said LSDM, adding that the solution comes through progressive taxation, according to which, those who get paid more, will pay more taxes.
Minister of Labor and Social Policies, Dime Spasov said that the law insures all those citizens who are paid on honorariums. He has denied accusations which according to him, are being done by associations and opposition.
"The entry in force of the law on honorariums will eliminate a large number of problems. Social insurance will improve and rights of workers will be protected. This measure is applied in many European countries, while Macedonia has the lowest level of social contributions", said minister Spasov. According to him, this will insure those workers who are paid on honorariums and who are not entitled to health insurance or to be part of the pension scheme.
In case the law is not complied with, there will be a 200 Euro fine for the person who receives the honorarium and 500 to 1000 thousand Euros for the payer of the honorariums who doesn't submit the labor contract at the Pension Insurance Fund. /ibna/