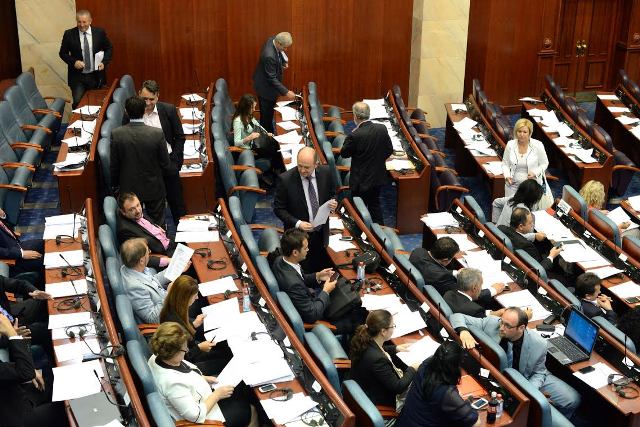 Skopje, 31 March 2016/Independent Balkan News Agency
By Naser Pajaziti
The changes in the law on criminal procedure have sparked debates and reactions. The proposal on changes has been made by the two coalition parties, VMRO-DPMNE and BDI (Democratic Union for Integration).
According to this proposal, the defendant's attorney is entitled to have 90 days to submit evidence, while the second proposal relates to the obligations of the prosecution to notify the defendant on the investigation procedures and gathered evidence before filing the charges.
The largest party of the opposition, SDSM said that this proposal is an attack against the Special Prosecution. The changes in the law also affect this prosecution.
Professor of Constitutional Law, Osman Kadriu told IBNA that the action of the two parties would put a question mark to the efficiency of the judicial system, especially the Criminal Court. Kadriu said that such thing is against the Constitution.
"With this, we will have a delay in procedures, cancellations of criminal trials and all of this may last a long time. Given that these procedures relate to the political crisis, I think that parliament and the government must insure the efficiency of the work of the judicial system and not prevent it", Kadriu said.
University professor, Gordan Kalajdziev says that the changes in the law on criminal procedure have political motives and not legal motives.
"For almost a year, the group of experts has an active proposal of changing around 300 articles of this law and not only four, which are being proposed by the two parties. Secondly, experts have agreed that it is necessary to extend the deadline that is being proposed, but not to 90 days, to 30 days", Kalajdziev who chairs the group of experts on legal changes in the Constitution.
MP and spokesman of SDSM, Petre Silegov says that this law is a scenario of the parties in power. "To save 5 people at the head of VMRO, you break every law", Silegov said.
Vlatko Gorce of VMRO-DPMNE said that Macedonian opposition is manifesting a violent behavior against any proposal which is part of the agenda of reforms.
"Power in Macedonia cannot be seized through violence. SDSM's coup d'etat will not be successful", Gorcev said.
The US embassy has commented these changes on Twitter by addressing a question: We are surprised by this. Why these changes now?
The coalition parties VMRO-DPMNE and BDI are attempting to approve these changes prior to the dissolution of parliament on April 10. /ibna/