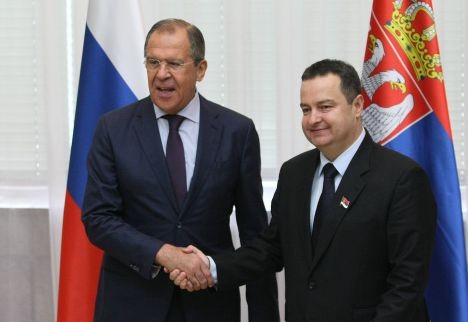 Belgrade, December 19, 2014/ Independent Balkan News Agency
By Milos Mitrovic
Serbian OSCE presidency in 2015 will be significant challenge, but Belgrade could be a fair mediator in resolving conflicts, Russian Foreign Minister Sergey Lavrov said today in Moscow after meeting his Serbian counterpart Ivica Dacic. Serbian FM said that the OSCE presidency will be the opportunity for Serbia to present to the world its creativity, righteousness and devotion.
Lavrov has stressed that Moscow does not impose any pressures on Serbia. The claims which suggest the opposite are politically incorrect, he added.
"This is the approach of neocolonialism", Lavrov remarked in what Beta news agency called reaction to Germany's Angela Merkel statement. "Russia is trying to put political and economic pressure on Serbia", Merkel was quoted as saying earlier this week.
At the same time Lavrov accused Brussels of putting pressure on Serbia.
"Considering EU diplomacy chief Federica Mogherini's claim that Serbia should not get involved in the dispute between Russia and West over Ukraine, I believe that she did not use the most adequate words, because it sounds totally non-European, non-Italian, but somehow American", Lavrov said.
He also said that official Belgrade has confirmed it would act objectively and be unbiased during its OSCE presidency.
Ivica Dacic said that "it's very important the ceasefire in Ukraine to remain, in order to enable the complete implementation of the Minsk Protocol and reach a peaceful solution of the crisis".
"We are aware this is the only way to overcome all the difficulties", he explained adding he would visit Ukraine next week.
Lavrov reiterated Russia's position on Ukraine by saying that "there is no dispute with the West, but West violates its commitments".
South Stream disappointment
Dacic said that Belgrade was disappointed over the South Stream project "situation". Gazprom's project on natural gas transport from the Russia through the Black Sea to Bulgaria and through Serbia, Hungary and Slovenia further to Austria, was abandoned earlier this month. Russian President Vladimir Putin blamed EU for the collapse of the plan and announced Russia would instead look at creating a gas hub on the Turkish-Greek border.
"This is the project we had invested together in, both economically and in energy sector. Serbia needs this project because it would guarantee the energy security of the country", Dacic said adding that presidents Putin and Tomislav Nikolic of Serbia would "continue consultations" in this regard.
Lavrov said that Russia would take into account the Serbian interests in the planning of the gas pipeline construction to Europe. "We have discussed the widening of the cooperation in economy, which includes the transportation of Russian gas to Europe".
Lavrov and Dacic have agreed that OSCE could organise a special manifestation in 2015 on the occasion of the 70 anniversary of the victory in the Second World War.
photo: www.politika.rs