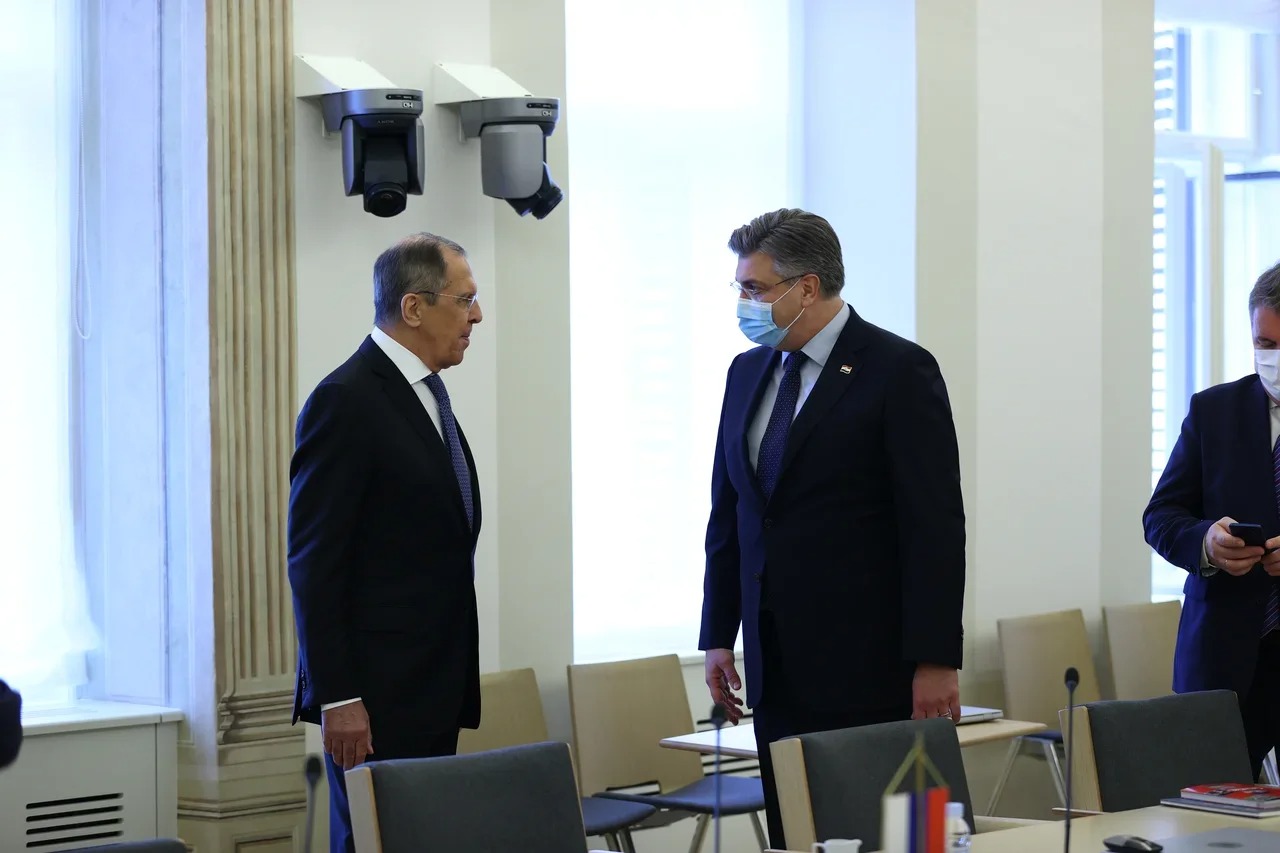 Prime Minister of Croatia Andrej Plenković and Russian Minister of Foreign Affairs Sergey Lavrov concluded today in Zagreb that bilateral relations and economic cooperation between Croatia and Russia are good.
Lavrov came to Zagreb on an official visit from Serbia and met with several officials. At his meeting with Plenković, opinions were exchanged on the situation in Southeast Europe, as well as global topics such as the fight against COVID-19.
"The importance of tourism in Croatian-Russian relations was emphasized, where additional momentum is expected after the end of the COVID-19 pandemic. Both sides expressed a desire for a continuation of bilateral dialogue," the Croatian government announced in a statement.
Lavrov also met today with Croatian Foreign Minister Gordan Grlić Radman to discuss regional issues. The Russian Foreign Minister said the institution of the International community administrator is an anachronism in an independent Bosnia and Herzegovina, adding that this rendered BiH a foreign protectorate.
Lavrov said he agreed with Croatia's position that it is important to maintain the constituency of all three peoples in BiH and their right to elect legitimate representatives in all government institutions, including the tripartite Presidency.
"Therefore, we believe the BiH Election Law requires a reform. We do not have the need to confront other countries over their accession to alliances, so our position regarding BiH and its NATO accession is the same. BiH is an independent country, despite the fact that it still has an external protectorate in the form of a High Representative, which I consider an anachronism. In accordance with its Constitution and the Dayton Agreement, BiH should decide on its own foreign policy. Everyone should respect the decisions made by BiH, which are in accordance with the Dayton Agreement. However, it should become clear that BiH does not exist without respect for all three peoples. That also means respecting the position of the Republika Srpska entity on military neutrality," Lavrov said.
On Tuesday, two members of BiH Presidency, namely Šefik Džaferović (Bosniak) and Željko Komšić (Croat), boycotted the meeting with Lavrov after he first visited the Republika Srpska entity, yet without a BiH flag in the meeting room. This was interpreted as disrespect on his behalf towards Bosnia and Herzegovina and its official institutions.
During a press conference in Zageb, Lavrov answered on several questions on the case of Alexey Navalny's poisoning. As CNN reports, Lavrov said that reports regarding the details surrounding the poisoning of opposition figure Alexey Navalny are "funny to read."
"We are already used to the fact that the United States and other Western countries simply announce in the media yet another set of accusations against Russia; be it hackers, or some kind of a sensation about the double or even triple poisoning of Navalny," Lavrov said during a news conference.
"All this news is funny to read, but these reports, or rather the manner in which this news is presented, only conveys one message; that our Western partners do not have any ethical standards and lack skill in normal diplomatic work, and [have] unwillingness to comply with the international legal norms when it comes to finding the facts," Lavrov added.
"And the [West's] logic here: 'Look, we have announced… new facts that were discovered by the German special services about the Navalny poisoning, and Moscow has been silent for two days; if it stays silent, it means it is guilty.' The flaw in this approach, in my opinion, is obvious to any sane person," Lavrov said. /ibna