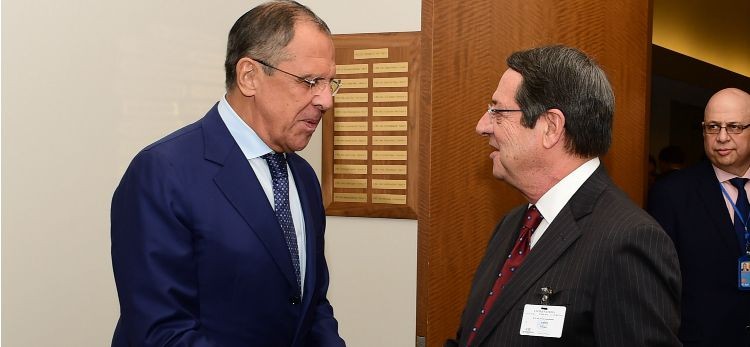 Nicosia, November 27, 2015/Independent Balkan News Agency
By Kyriacos Kyriacou
Russian Foreign Minister Sergei Lavrov will pay Cyprus a visit on 1-2 December during which he will discuss EU – Russia relations, the Cyprus issue and the situation in Syria and the Middle East.
Spokeswoman of the Russian Foreign Minister Maria Zakharova said on Thursday that Lavrov will be received by President of the Republic of Cyprus Nicos Anastasiades, President of the House of Representatives Yiannakis Omirou and hold meetings with Cypriot Foreign Minister Ioannis Kasoulides and Archbishop of the Church of Cyprus Chrysostomos II.
"They will exchange views on the relations between Russia and the EU, the Cyprus issue, the situation in Syria and the Middle East", the Spokeswoman said, adding that Lavrov will not meet with Turkish Cypriot leader Mustafa Akinci.
She explained that Akinci rejected a proposal by Moscow for a meeting to take place at the Green Line.
"A compromising choice for a meeting at the Green Line was made to the Turkish Cypriot leader, which would bear in mind the interests of the two communities of the island. Nevertheless, this choice was rejected by Mr Akinci. He insisted that the meeting takes place in his, as he told us, residence in Northern Cyprus", she explained.
The Spokeswoman said that "such a meeting could be interpreted as an element of an official recognition on behalf of Russia of the `Turkish republic of northern Cyprus`. In our opinion, this would be harmful for our stance of principles regarding the settlement of the Cyprus issue".
The Republic of Cyprus, an EU member since 2004, remains divided since the Turkish invasion against this Mediterranean island in the summer of 1974. The Green Line, dividing the capital Nicosia, separates the northern Turkish occupied areas from the southern government controlled part of the country.
UN led talks aiming at reunifying the island under a federal political system resumed last May. A so called `state` was proclaimed in the occupied areas, which is only recognized by Turkey.