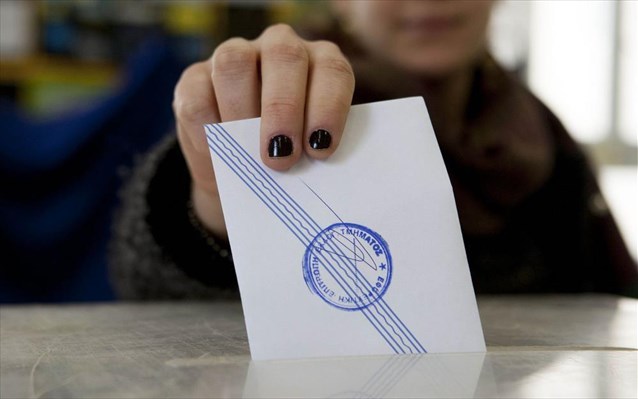 New Democracy maintains a significant lead over ruling SYRIZA in the latest opinion poll published by MRB.
Specifically, the leftist party trails the conservatives led by Kyriacos Mitsotakis by 9.4 percentage points with SYRIZA on 21.3 percent and New Democracy on 30.7 percent.
According to the survey, the new center-left party, Movement for Change, is in third place with 10.1 percent, followed by Golden Dawn on 6.8 percent, while the Communist Party of Greece (KKE) took 6.5 percent.
All other parties with seats in the House came in below 3 percent, which is the minimum threshold for entry to Parliament.
The poll shows that SYRIZA has closed the gap on New Democracy in December 2017, compared to June when the difference between the two parties was at 11.9 percent.
Asked when they would like to see a general election called, 28.7 percent of respondents said they'd like a vote called immediately, while 17.7 percent said "early" and 41.3 percent would like the current coalition government to see through its four-year term.
Responding to the question of who is better suited to be Prime Minister, 31.7 percent of respondents opted for Mitsotakis while 22.1 percent preferred Alexis Tsipras. A total of 40.1 percent answered "neither" of the two.
Interesting findings were recorded concerning the views of voters on the economy and the country's efforts to exit the crisis. A total of 49 percent believed they would be in a position to stay in their jobs in the next 12 months, albeit with a lower income.  Moreover, 69.9 percent of Greeks said they did not believe the sacrifices made by the people and the austerity endured will result in Greece's economic recovery. Conversely, just 24.7 percent said the economy will rebound.
Overall, 87.2 percent of the 2,000 people surveyed said they believed things in Greece are "bad or very bad", with just 1.6 percent believing the situation in the country is "good or very good".
Respondents also appeared to oppose the planned auctions of property as a result of outstanding debts, as a means to manage non-performing loans and bad debt in Greece. Specifically, 52.9 percent said foreclosures should not go ahead in any case, while 39.1 percent would like to see strict financial and social criteria applied when foreclosures are allowed to go ahead.
Analysts point out that the government has felt the impact of a strong backlash emanating from foreclosure auctions as the communist party and other leftist groups have strongly opposed the measures, while strong intra-party opposition has also emerged with several MPs requesting that the government takes measures to protect the poor from losing their homes./IBNA